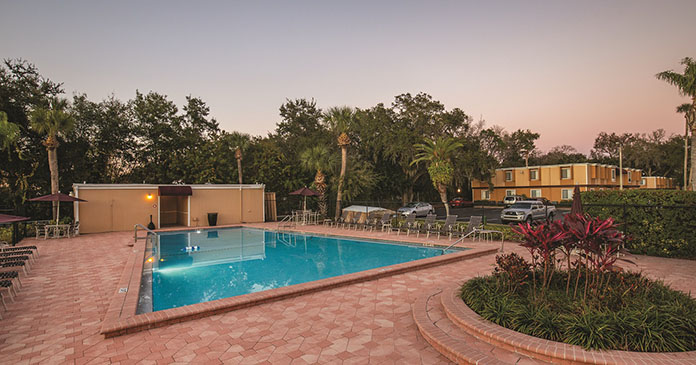 Cushman & Wakefield announced that the real estate services firm has arranged the sale of The Park at Via Roma, a 228-unit apartment community located in Daytona Beach, Florida. The final sale price was $29.3 million.
Mike Donaldson and Nike Meoli of Cushman & Wakefield represented the seller's agent, Blue Roc Premier Properties, in the transaction. Inman Equities acquired the property.
"As a result of the seller's well-established in-house management, the asset's performance remained resilient throughout the last six months," Donaldson said. "Out-of-state capital remains attracted to multifamily properties due to strong market fundamentals, continued expected growth and future prognosis as population influx and employment continue to trend positively."
Located at 875 Derbyshire Road in Daytona Beach, The Park at Via Roma offers studio, one-, two- and three-bedroom apartments with an average unit size of 859 square feet and was 95 percent occupied at the time of the sale. Amenities include two resort-style swimming pools, two tennis courts, a designer clubhouse, a coffee bar, a resident lounge, a business center, a 24-hour fitness center and an on-site laundry facility.
Since 2017, the property has received more than $2.8 million in capital improvements including new exterior paint and siding, newly-installed amenities, a remodeled clubhouse, unit upgrades and revamped landscaping, signage, parking lot, pool furniture and more.
"Inman Equities is currently in expansion mode in Florida and saw an opportunity to build off the successful repositioning of a nearby community called KABANA Waterfront Living," Meoli said. "The buyer plans on continuing strategic renovations and should benefit from economies of scale within the submarket."