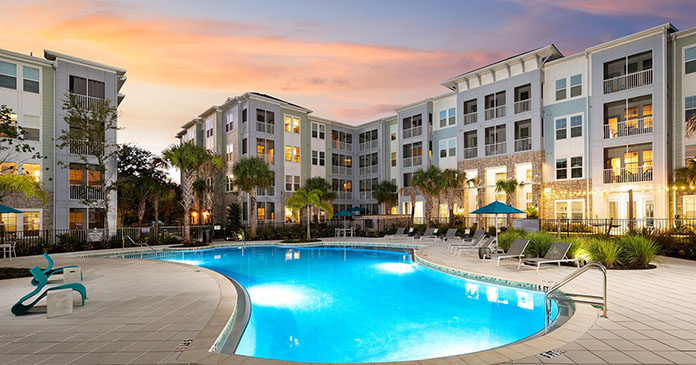 Passco Companies, a privately held California-based commercial real estate company that specializes in acquisition, development, and property and asset management throughout the U.S., has acquired Tapestry Cypress Creek, a 341-unit luxury apartment community in Tampa's East Pasco County submarket for approximately $76.4 million.
The acquisition comes on the heels of two multifamily purchases by the firm in September: One Hampton Lake in Bluffton, South Carolina and the Preserve at Catons Crossing in Woodbridge, Virginia.
According to Colin Gillis, Vice President of Acquisitions, Passco was drawn to Tapestry Cypress Creek due to its exceptional location within the Greater Tampa area, which is ranked the #5 MSA in the nation for net migration. This acquisition brings the firm's current multifamily portfolio in the region to four properties.
"Passco has long been focused on identifying well-located, high-performing multifamily assets in the greater Tampa area, a geographically diverse region where we've experienced immense success," explains Gillis, noting that Passco also brought an asset in the MSA full cycle in late 2019 to very high returns. "We're delighted to complete our first acquisition in Pasco County, a high-growth submarket located within a 20-minute drive of Downtown Tampa."
According to Gillis, this was also a rare opportunity to acquire a newly constructed luxury asset that has proven exceptional demand since it was completed in 2019.
"Tapestry experienced a 15-month lease-up, which is extremely impressive for an asset of its size," says Gillis. "The population growth within three miles of the asset has been nearly 30 percent since 2010, twice the rate of the Tampa MSA as a whole. We anticipate that continued migration to the area and significant barriers to entry, due to Pasco County's wetlands and high development impact fees, will continue to drive rental demand."
Gillis also notes that Tapestry is the best located multifamily community within the State Road 54 and Interstate 75 pocket, providing convenient access throughout the Greater Tampa area and to numerous employment and retail hubs.
"Tapestry is located within a short commuting distance of several diverse employers, including those in the healthcare, finance, and higher education sectors," continues Gillis. "Further, the community is positioned adjacent to the new Cypress Creek Town Center, a two million square-foot mixed-use development that includes more than 20 walkable shops and restaurants, with more in the pipeline. Residents will additionally benefit from a total of more than six million square feet of retail within a short drive of the property."
Community amenities at the garden-style property include a resort-style saltwater pool, clubhouse with a coffee bar, a 24-hour fitness studio, a spin studio, a resident club room with a sports lounge, a bocce ball court, a pet park, and outdoor barbeques with a dining terrace. Units feature granite countertops, hurricane impact windows, screened-in patios and balconies, washers and dryers, walk-in closets, stainless steel appliances, large tubs, and walk-in showers.
Passco was able to secure the acquisition of this quietly marketed community based on a direct, long-time relationship with the seller, Arlington Properties.
"We were pleased to be able to work with Arlington again on this seamless transaction, for which we were able to complete due diligence and close the transaction in just over a month," Gillis adds. "Arlington will continue to act as property manager, bringing the total number of units they manage in Passco's portfolio to over 1,100 units."
Newmark Group's Vice Chairman Patrick Dufour, Directors Ryan Crowley and Andrew Visnick, and Associate Pibu Aulakh represented the seller in this transaction.
Dufour says: "Tapestry Cypress Creek leased up exceptionally well with limited concessions and reached stabilization earlier this summer. The combination of strong performance through lease up and stabilization, the quality of the asset, and its proximity to employment and amenities drew tremendous buyer interest. Rather than a broad marketing campaign, we targeted a strong set of buyers to approach on a direct basis on behalf of the seller. Passco owns several similar assets within the region and has an existing relationship with the seller. It was a very smooth, quick closing for all parties."
Tapestry Cypress Creek is located at 2300 Tapestry Park Drive in Land O' Lakes, Florida. Caleb Marten of KeyBank Real Estate Capital's Commercial Mortgage Group arranged acquisition financing on behalf of Passco Companies.