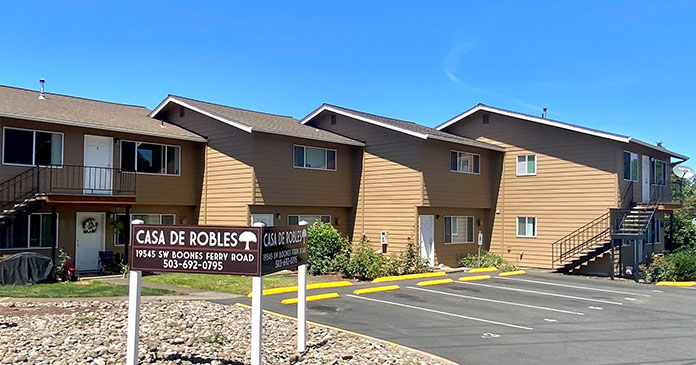 Kidder Mathews is pleased to announce the sale of the Cypress Gardens and Casa De Robles apartment portfolio for $14,000,000. The two properties are comprised of 94 total units and located at 19545 and 19605 S.W. Boones Ferry Road in Tualatin, Oregon. Tyler Linn, Clay Newton, and Jordan Carter, a multifamily investment team at Kidder Mathews, facilitated the transaction on behalf of the buyer, Trion Properties, a California-based investment firm.
"The primary appeal of Cypress Gardens and Casa De Robles includes the long-term upside and tremendous suburban location, which offers walkability to grocery stores, restaurants, and major retailers," said Tyler Linn, vice president. "These factors, combined with the strength of suburban markets, continue to attract investors to Portland's metro area. With strategic capital investments, the properties are well positioned to provide new ownership solid returns moving forward."
Cypress Gardens and Casa De Robles Apartments were built in 1973 and 1968, respectively. Both communities offer one- and two-bedroom flats, as well as two-bedroom townhomes. Current amenities include a dedicated leasing office, community pool, playground, and on-site laundry facilities.