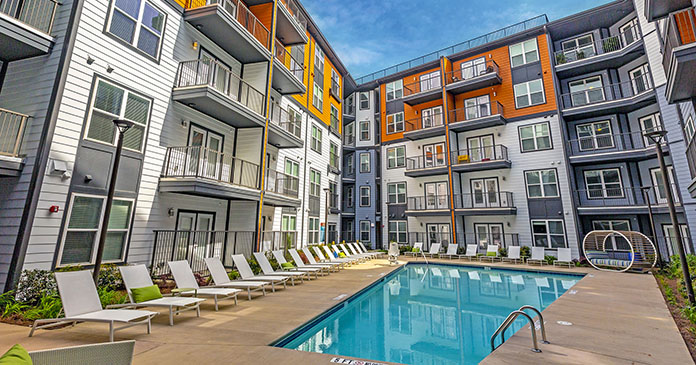 Cushman & Wakefield has arranged the sale of Accent 2050, a 198-unit apartment community located in Atlanta. Robert Stickel, Mike Kemether and Alex Brown of Cushman & Wakefield represented the seller, Atlanta-based Westplan Investors, in the transaction. Miami-based Beacon Real Estate Group acquired the property.
"Westplan delivered yet another thoughtfully designed community in the Atlanta market," Stickel said. "Also, they were able to provide a swift lease-up with quality residents and financial performance. It is a testament to their impressive ability as a talented developer."
Accent 2050 is located in Atlanta's job driver triangle created by Midtown, Buckhead, and the Clifton Corridor. The Morningside area is expected to continue to grow due to continued investment and commitment to furthering a highly desired intown culture.
"Accent 2050 is positioned to benefit its new owner over the next decade given the unique location next to affluent intown neighborhoods, nearby restaurants and bars in Atlanta, and location in the circumcenter of the Buckhead/Midtown/Clifton corridor," Kemether added.
Future developments such as the new MARTA line extending through the Clifton Corridor to create an intown loop will further solidify Accent 2050's position within the market.
"Beacon Real Estate Group continues to invest meaningful resources into the Atlanta market," Brown said. "With this acquisition, they saw the opportunity to invest in a high-quality residential asset in a growth market with favorable fundamentals."
Cushman & Wakefield's Sunbelt Multifamily Advisory Group ranks No. 1 in Sunbelt market share based on over 300 transactions and $7.0 billion in multifamily and land investment sales in 2019 (Source: Real Capital Analytics). Market share reflects sales for Alabama, Arkansas, Northwest Florida, Georgia, Kentucky, Louisiana, Mississippi, North Carolina, South Carolina, Tennessee and Texas.