Due to the pandemic, the world has rapidly changed and industries are looking for ways to adapt their revenue strategies to meet the evolving needs. With rent prices dropping, down 10 to 20 percent in some major cities, the multifamily housing industry will also have to adjust. Owners and managers may be wondering how to regain the lost income. One solution? Capitalize on existing assets.
Parking in major downtown corridors have become a hot commodity. Not only are spaces limited, they have also become increasingly expensive. In some major U.S. cities, two-hour parking prices reached twenty dollars or more.
For commuters looking for prime, long-term spots near their offices, this can become a costly problem. Multifamily housing units can use increasingly modern parking practices to update their property while capturing long-term revenue.
A brief history of parking technology
Modernizing parking may seem like a contradictory idea; parking should be straightforward and even easier to manage. But like all things, technology has actually been a driving force in modern parking practices.
Take for example the parking meter, which was first developed in the 1920s. When meters were first introduced in major cities, there were many lawsuits relating to the legality of charging people to park on public roads. As we can see today, parking meters have become ubiquitous around the globe.
Since then, these relatively simple devices have modernized to accept credit cards, as well as cash. Meters have also started to rely on solar power to make operation more sustainable. They've evolved to manage multiple spots and varied rates that correspond with supply and demand.
All of these technologies were popularized to offer greater convenience and increased control to motorists.
Where we are now
Parking meters still exist. What's changed is that many drivers now rely on apps to find parking spots, monitor remaining time, and add time and money to the virtual meter.
As the sharing economy emerges, private parking has also become a rentable commodity. By using social media or specially-designed apps, parking space owners can list their spots and charge based on location and length of contract. These parking rental apps can also benefit owners and managers of multifamily housing units.
As trust in public transit drops due to the pandemic, so too will ridership. In fact, 44 percent of New Yorkers plan to avoid public transportation entirely after the pandemic.
These riders will need new methods to commute to work—31.5 percent of New Yorkers will be looking for alternative modes of travel, such as bike, foot or car.
As most people know, finding parking in downtown Manhattan was nearly impossible pre-pandemic. With more commuters relying on cars, there will be even greater demand for this limited resource.
Owners of parking spaces and garages in apartments can take advantage of this market demand by renting out their unused spaces.
Monthly parking rentals can secure increased revenue for long periods of time, while allowing for flexibility during the current uncertain economic climate.
This improves the experience for commuters, as well, who will be able to count on a reliable parking spot, thus eliminating the time spent on searching for parking.
Fleet parking is another excellent option for buildings that aren't located near business districts. As the travel industry struggles to recover, there are many rental car companies looking for spaces to store their unused cars.
Multifamily housing managers can connect with these rental companies and offer bulk, long-term parking to store cars that are not on the road.
Although it may seem difficult to start, parking apps reduce the work for property managers by helping connect people or businesses in need of parking with those who have parking.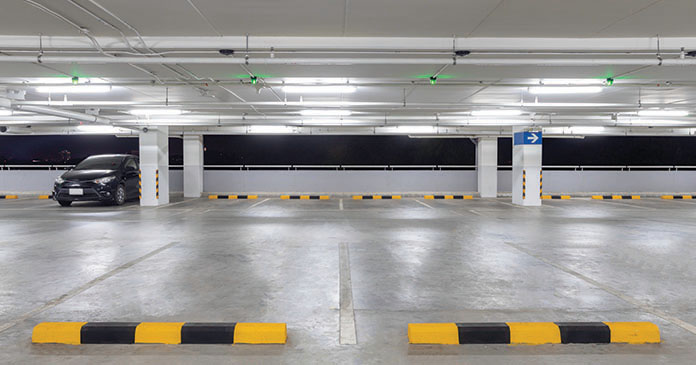 Increasing profits
As most property managers know, building rental prices vary dramatically depending on location—and parking rentals are the same. Although owners can't change the location of their parking spaces, there are steps they can take to improve the security and curb-appeal of their parking lot to increase profits. Most of these changes are relatively easy and relate to the safety of the surrounding environment.
As the days get shorter, ensuring that the parking lot is well-lit can contributes dramatically to how safe drivers feel. On-site security or cameras can also help reduce the risk of thefts or break-ins.
Finally, user experience is a huge reason why people will, or will not, choose specific parking spaces. Technology can help with this aspect, as well.
With parking apps, the user experience can be greatly simplified. Instead of having to save a ticket, FOBs or codes can help users quickly access the parking space. Allowing for mobile and online payments can also increase the ease-of-use for drivers.
For parking spots rented out in private residential buildings, technology-forward parking companies can take the burden off of property managers in ensuring that all parking tenants are verified, trustworthy and reliable. Encouraging building owners to take the same precautions when renting out their parking spaces as they would their homes can go a long way to making everyone feel safe.
Parking specialists can also collect data that relates to parking prices in the area, helping owners to accurately assess and increase revenue opportunities.
The future of parking
Although renting our parking spaces may not seem like the most innovative strategy, during these uncertain times, it pays to use existing assets to increase revenue. Using technology can also make the entire experience efficient and easy; parking apps can reduce the effort needed from property managers, as apps can connect drivers with spaces, allow for increased safety, and maximize revenues.
As the world changes, so too will parking practices. Investing in technology now can help multifamily housing stay ahead.
---
Author Jeremy Zuker, WhereiPark