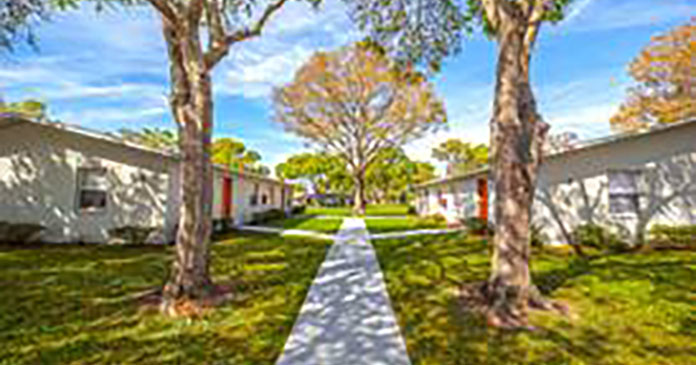 Marcus & Millichap, a leading commercial real estate brokerage firm specializing in investment sales, financing, research and advisory services, announced the sale of Waterside Village, a 102-unit apartment property located in St. Petersburg, Fla., according to David G. Bradley, regional manager of the firm's Tampa office. The asset sold for $12,000,000.
Casey Babb CCIM, Luis Baez CCIM and Shawn Rupp, investment specialists in Marcus & Millichap's Tampa office, had the exclusive listing to market the property on behalf of the seller, a private investor. The buyer, a private investor, was secured and represented by Casey Babb CCIM, Luis Baez CCIM and Shawn Rupp.
"Waterside Village launched to market in mid-March just as the pandemic lockdowns were occurring.  In spite of that we were able to generate over 10 written offers and close at 96 percent of pre-Covid pricing expectations." says Casey Babb, CCIM. "The property has operated at nearly 100 percent collections over the past 6-months and the Buyer, who was in a 1031 exchange, recognized the quality of the asset, the strength of the location and the durability of the cash-flow." says Luiz Baez, CCIM.
Waterside Village is located at 3600 49th Avenue North in St. Petersburg, Fla. Built in phases between the late 1970's and late 1980's, Waterside's all concrete block construction buildings span across almost seven acres of mature landscaping giving tenants a more private and quieter lifestyle than afforded by more densely built apartment communities. This property received a complete renovation in 2019 and 2020 with only four units that did not receive a full turn. In addition to brand new roofs on seven of the buildings, the remaining roofs are still under warranty with sixty percent of HVAC units having been replaced in the last two and a half years. A highly desirable and balanced unit mix with an equal amount one- and two-bedrooms units averaging $955/month have significant upside in rents, especially on the two bedrooms where the average rent is approximately $100 less per month than the most recently rented units and an additional $25-30 lower than market comparables.