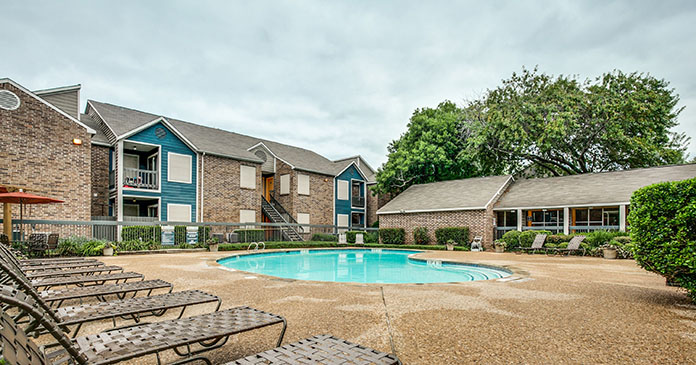 Multifamily investment firm DB Capital Management has made its largest investment in Austin, Texas with the acquisition of a three-property apartment portfolio totaling 422 units.
The properties located in North Austin were built between 1980 and 1984 and range in size from 130 to 160 units. Each is located within a 1.5-mile radius from one another at 1200 Mearns Meadow, 1804 Rundberg Lane and 1735 Rutland. Occupancy across the portfolio was 95 percent at closing.
Since entering the Austin market in 2018 DB Capital Management has grown its local portfolio to 724 units with plans to continue to build scale over the next 12-18 months, according DB Capital Management Vice President of Acquisitions, Hunter Graul who heads the firm's Austin, Texas office.
"The portfolio's proximity to our other assets in North Austin, combined with our growing influence in the market, provides us an opportunity to achieve synergy through economies of scale," said Graul. "We are bullish on the long-term outlook for Austin, particularly North Austin, which is one of the last remaining affordable suburban infill markets in the city. We will continue to seek compelling opportunities and plan to increase our portfolio in the market with a goal of acquiring an additional 500 to 1,000 units over the next year-and-a-half."
After curing substantial deferred maintenance issues DB Capital will begin a multimillion-dollar capital improvement program across the portfolio, which will include exterior renovations and a complete amenity overhaul, with the addition of playgrounds, dog parks and new landscaping. Unit interiors will also receive significant upgrades including stone countertops, updated plumbing and lighting fixtures, new cabinet fronts, and new vinyl plank flooring and carpets. Renovations, which will be made as units roll, are expected to be completed over the next two years.
Over the past two months, DB Capital Management has acquired approximately $100 million in multifamily assets located in selected high-growth markets in the Western United States, having recently closed on assets in Denver, Colorado and Provo, Utah.
"We have a robust pipeline of deals and are expecting to close on our next multifamily property in Salt Lake City later this quarter," added company Co-founder and CEO Brennen Degner.
Michael Wardlaw, Charles Cirar and Colin Cannata of CBRE marketed the property on behalf of the seller.