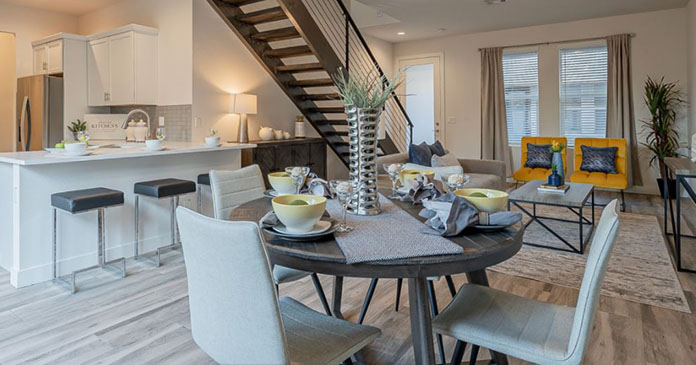 Next Wave Investors, LLC ("Next Wave") a private equity firm focused on value-add multifamily investments, acquired The Grove on Glendale, a new 56-unit luxury townhome community in North Central Phoenix, Arizona for $25.5 million in December 2020, according to Jordan Fisher, Principal at Next Wave.
"Phoenix, which was the second-largest inbound city in the country last year, has increasingly attracted businesses and residents with its relative affordability and high quality of life, both before and since the pandemic began," says Fisher. "The Grove on Glendale is a stand-out property that meets this growing demand for top-notch multifamily living in the market."
According to Fisher, the property, which was constructed in 2020, is the largest built-for-rent townhome community developed in Phoenix, representing the firm's ability to source top-tier acquisitions in competitive markets.
David Sloan, Principal at Next Wave, adds: "Our typical strategy in western markets such as Phoenix and Las Vegas has been to acquire older multifamily product and implement value-add renovations. Drawing on our years of experience in Phoenix, established relationships, and continued evaluation of the market, we strategically recognized the strength of this opportunity to add a unique luxury asset to our portfolio based on current demand."
Sloan notes that the property is conveniently located less than seven miles north of Downtown Phoenix, offering residents proximity to major employment opportunities, entertainment, and transportation corridors such as Interstate 10, Interstate 17, and State Route 51. Further, the asset is situated in an affluent part of Phoenix with a household income averaging $85,763.
The Grove on Glendale is a gated community consisting of two-story townhomes that offer a mix of spacious three bedroom, two-and-a-half-bathroom and four-bedroom, three-and-a-half-bathroom units averaging 1,840 square feet. The property is within five minutes of numerous shopping centers and within ten minutes of Grand Canyon University.
Each townhome includes a 400 square-foot two-car private garage and fenced-in backyard. Additional amenities include a community swimming pool, walk-in closets, large bedrooms, and in-unit washers and dryers.
The property, located at 917 West Glendale Avenue in Phoenix, was purchased from an Arizona-based private investment developer. ABI Multifamily's Alon Shnitzer, John Kobierowski, Rue Bax, Doug Lazovick, and Eddie Chang represented the buyer and seller in the transaction.