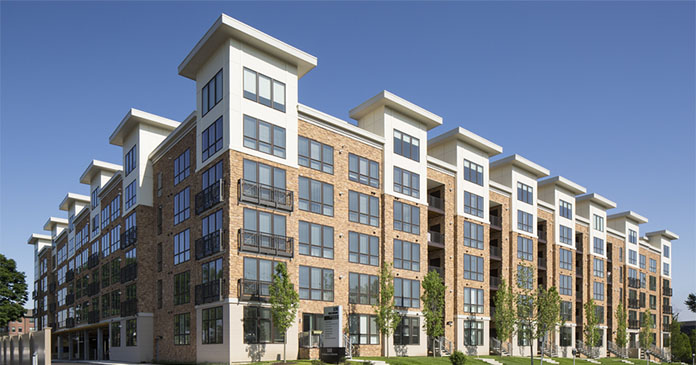 JLL Capital Markets announced it has arranged $55.83 million in acquisition financing for The Berkeley at Waypointe and Quincy Lofts, a multihousing property located at 500 West Ave and 30 Orchard St. in Norwalk, Connecticut.
JLL worked on behalf of Invictus Real Estate Partners, a New York City-based real estate private equity company, to secure the acquisition loan through Freddie Mac. The loan will be serviced by JLL Real Estate Capital, LLC, a Freddie Mac Optigo lender.
Completed in 2017, The Berkeley at Waypointe and Quincy Lofts are two multi-housing developments with a total of 198 units. The Berkeley is a five-story building consisting of 129 units and 10,331 square feet of ground-floor retail surrounding a 371-space parking garage. The Berkeley features a clubroom, fitness center and rooftop deck with views of the Long Island Sound. Quincy Lofts is a five-story building consisting of 69 units over 87 ground-floor level parking spaces and features a resident lounge and outdoor patio with grills and fire pits.
Located in the heart of Connecticut's vibrant Fairfield County, The Berkeley at Waypointe and Quincy Lofts are one hour away from Manhattan, offering convenient access to I-95 and is minutes from the MTA's South and East Norwalk train stations. It also stands in close proximity to employment hubs such as Greenwich and Stamford, CT. The Berkeley at Waypointe and Quincy Lofts are adjacent to The Waypointe, a 464-unit, mixed use project that was purchased by Invictus in August and financed by the JLL Capital Markets team.
The JLL Capital Markets team representing the borrower was led by Managing Directors Scott Aiese and Peter Rotchford, Vice President Alex Staikos and Analyst Brendan Collins.
"The Berkeley at Waypointe and Quincy Lofts are highly attractive multi-housing assets with Class-A amenities and easy access to New York City," said Aiese. "The two properties will benefit from the growing population of renters seeking alternatives to New York City that offer high-end amenities and a dynamic community of nearby restaurants and retail."
JLL delivers multifamily investors a full range of solutions through one diverse, integrated platform. The division employs over 200 professionals who provide comprehensive investment sales and disposition services with access to thousands of domestic and foreign investors. JLL is also one of the nation's largest affordable and conventional multifamily and seniors housing lenders with full service lending platform including underwriting, asset management and loan servicing capabilities.
JLL Capital Markets is a full-service global provider of capital solutions for real estate investors and occupiers. The firm's in-depth local market and global investor knowledge delivers the best-in-class solutions for clients—whether investment sales advisory, debt placement, equity placement or a recapitalization. The firm has more than 3,700 Capital Markets specialists worldwide with offices in nearly 50 countries.
Agency/GSE lending and loan servicing are performed by JLL Real Estate Capital, LLC, a wholly owned indirect subsidiary of Jones Lang LaSalle Incorporated.