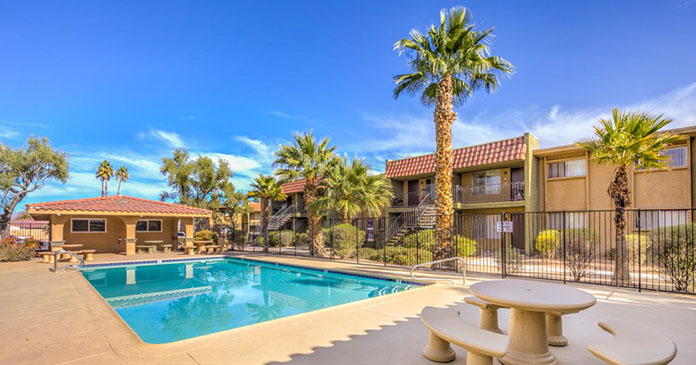 Next Wave Investors, LLC ("Next Wave") a private equity firm focused on value-add multifamily investments, has acquired Spanish Oaks, a 216-unit garden style multifamily community in Las Vegas, Nevada for $28.075 million.
Through existing broker relationships, the firm was able to acquire the property in an off-market transaction at a discount to replacement cost, according to Jordan Fisher, Principal at Next Wave.
"Spanish Oaks fits seamlessly within our investment strategy of acquiring value-add assets in well-located, secondary markets positioned for economic growth," says Fisher. "We have deepened our relationships and presence as an owner in Las Vegas for several years now, while also leveraging economies of scale to deliver long-term value for our investors."
Fisher adds: "We purchased the property from Southern California Investor, who had previously completed renovations to 56 of the units. This gives our team a tremendous opportunity to further create value by implementing a full renovation program to the additional 160 units."
Next Wave intends to upgrade all unrenovated units through their proven value-add program with interior additions such as: stainless steel or black appliances, lighting fixtures, vinyl plank flooring in common areas, new carpet in bedrooms, stone countertops, new paint, tile backsplash in kitchens, among other items.
The firm will also reposition the asset through enhancements to the exterior and amenity spaces including adding carports, exterior paint, roofing, and upgrades to the pool area and landscaping while also creating operational efficiencies through management expertise.
David Sloan, Principal at Next Wave, adds that Las Vegas continues to be a market the firm remains highly active in due to its in-migration, particularly from Californians, resulting in high demand for modernized apartment communities.
"Despite Las Vegas' high concentration of hospitality jobs that have struggled during the pandemic, Las Vegas has benefited from major construction projects over the last several years including new stadiums, entertainment centers, resort developments, among others," says Sloan, who notes that Next Wave's current portfolio in the Las Vegas market totals 304 units. "The region has been among the most resilient throughout the pandemic and has even seen an increase in rent growth by 4-5%.  We believe the city is poised for strong future growth as travel and hospitality rebounds once the COVID vaccine is fully rolled out."
Sloan adds that Spanish Oaks apartments are strategically located less than ten minutes from the Las Vegas Strip. The property is situated along the Interstate 15 and SR 159, also providing residents ease of access to over 10 million square feet of office in downtown Las Vegas as well as proximity to retailers, recreation, and award-winning schools.
Built in 1976, Spanish Oaks features a mix of one- and two-bedroom units that feature large closets and private balconies or patios. Community amenities include a fitness center, pool, clubhouse, laundry facilities, and a leasing center.
The property is located at 2301 South Valley View Blvd in Las Vegas, Nevada.