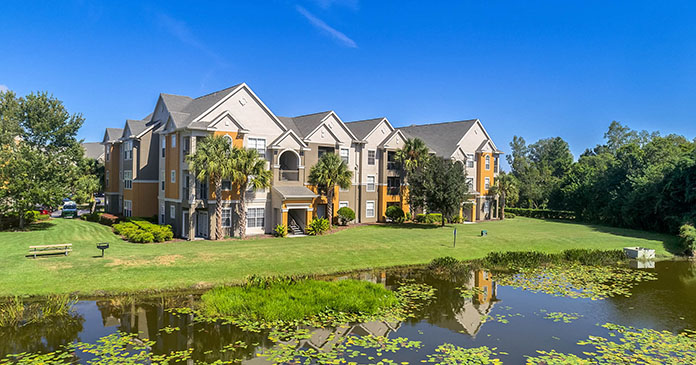 JLL Capital Markets announced that it has arranged the sale and $46.2 million acquisition financing of Grandewood Pointe, a garden-style apartment property located in Orlando, Florida.
JLL represented the seller, Bluerock Real Estate, in arranging the sale to the buyer, a joint venture led by Lloyd Jones. JLL also arranged the 10-year, fixed-rate loan through Fannie Mae's Green Rewards Program. The loan will be serviced by JLL Real Estate Capital, LLC, a Fannie Mae DUS lender.
Grandewood Pointe, formerly known as Arium Grandewood, consists of 306 one-, two- and three-bedroom units. The new owner plans renovations to the building's exterior, community amenities and units, including new countertops, vanities and lighting. Current community amenities include a courtyard, barbecue and picnic area, playground and business center.
Located at 3701 Grandewood Blvd., right off the tranquil, lakeside setting of Central Florida Parkway, Grandewood Pointe is proximate to Orlando's largest employment hubs, including Lockheed Martin and Lake Nona's Medical City, and a short 20-minute drive to Downtown Orlando.
The JLL Capital Markets team representing the seller was led by Managing Directors Jay Ballard and Ken DelVillar. The team representing the borrower was led by Senior Managing Director Elliott Throne, Director Jesse Wright, Senior Director Tarik Bateh, and Associates Jennifer Swanson and Drew Jennewein.
 "This was a true core-plus value add opportunity given that only 15 of the 306 units had been updated and the remaining units all being in original condition," said DelVillar.
"Agency rates remain incredibly competitive in this market, especially given a Class A property and the experienced sponsorship of Lloyd Jones," continues Wright.
JLL delivers multihousing investors a full range of solutions through one diverse, integrated platform. The division employs approximately 400 professionals who provide comprehensive investment sales advisory and disposition services with access to thousands of domestic and foreign investors. JLL is also one of the nation's largest affordable and conventional multi-housing and seniors housing lenders with comprehensive loan underwriting, asset management and loan servicing capabilities.
JLL Capital Markets is a full-service global provider of capital solutions for real estate investors and occupiers. The firm's in-depth local market and global investor knowledge delivers the best-in-class solutions for clients—whether investment sales advisory, debt placement, equity placement or a recapitalization. The firm has more than 3,700 Capital Markets specialists worldwide with offices in nearly 50 countries.
Agency/GSE lending and loan servicing are performed by JLL Real Estate Capital, LLC, a wholly owned indirect subsidiary of Jones Lang LaSalle Incorporated.