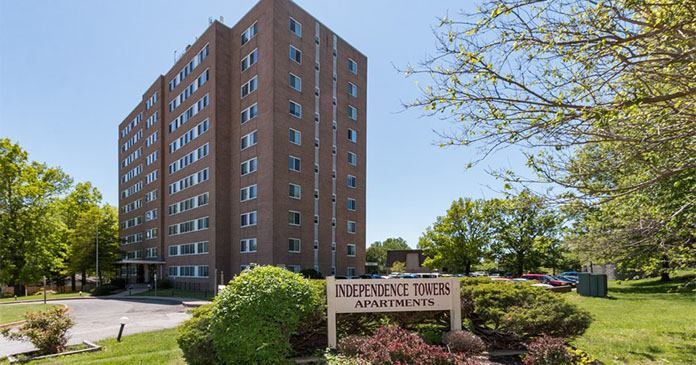 JLL Capital Markets announced that it completed the $6.95 million sale of the Independence Towers, a 123-home, mid-rise apartment community located in Independence, Missouri, which is part of the greater Kansas City metropolitan area.
JLL worked on behalf of the seller, Property Resource Associates, to complete the sale to the buyer, FTW Investments.
Independence Towers totals 72,766 rentable square feet, is 93 percent occupied and has a mix of studio, one- and two-bedroom apartment options. The property's amenities include a courtyard with barbecue area, recreation room and fitness center.
Located at 728 N. Jennings Rd., the area benefits from proximity to the bustling Kansas City metro, being home to major employers, shopping, dining and entertainment options; in addition to many corporate headquarters and $2 billion in development since 2016. The transit-orientated Independence Towers is proximate to Highways 24 and 291, offering regional connectivity and direct access into Kansas City.
Additionally, the property benefits from the recent 3.7 percent population boom over the last decade and the area's strong market fundamentals, with the Independence and East Kansas City markets exhibiting an average occupancy rate of growth of 94.9 percent respectively over the last few years.
The JLL Capital Markets team representing the seller was led by Senior Director David Gaines and Director Kyle Butler, in conjunction with Executive Vice Presidents Adam Tilton and Jim Gates from the company's Kansas City office, who worked closely with Ron Plichta and Tommy Bateman of Property Resource Associates.
"Private capital like FTW Investments, which functions as a vehicle to provide investors with a safe alternative to traditional stock and bond markets, has been extremely active in the Kansas City market over the last 12 months," said Gaines.
"We are bullish on affordable housing in and around sub-markets of Kansas City like Independence for many reasons including affordability, rising construction costs and lack of supply," said Logan Freeman, Chief Development Officer of FTW Investments LLC.
JLL Capital Markets is a full-service global provider of capital solutions for real estate investors and occupiers. The firm's in-depth local market and global investor knowledge delivers the best-in-class solutions for clients—whether investment sales advisory, debt placement, equity placement or a recapitalization. The firm has more than 3,700 Capital Markets specialists worldwide with offices in nearly 50 countries.