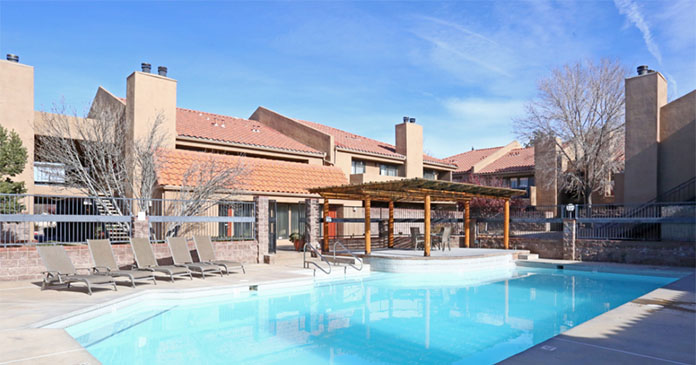 RanchHarbor and Westgrove Partners, two real estate investment firms based in Newport Beach, Calif. and Los Angeles respectively, announced their joint venture (JV) partnership in the acquisition of a two-property multifamily portfolio in Albuquerque, N.M. The assets, Candlewood Village and Candelaria Heights, which have since been rebranded to The Grove and The Heights at Tramway, together include 79 garden style apartments on approximately 3.1 total acres. The JV purchased the portfolio off-market, substantially below replacement cost and at an attractive basis.
"Albuquerque is a stable apartment market in need of improved housing options as more major entertainment and technology-based corporations such as Netflix and NBCUniversal target the region for expansion," said John Meek, managing principal at RanchHarbor. "RanchHarbor is pleased to partner with Westgrove Partners who secured this investment through its strong broker network. The opportunity allows our firm to execute another value-add business plan and provide strong cash yield to our investors."
The business plan for the multifamily portfolio is to implement institutional-grade property management and perform interior and exterior renovations to reposition the assets. Interior improvements include painting, installing new flooring and updating lighting, cabinets and fixtures in kitchens and bathrooms. Exterior enhancements include new paint and improvements to the building's façade, landscaping and lighting in addition to clubhouse and common area amenity renovations.
The two properties are well-located within Albuquerque's Northeast Heights submarket, which currently has vacancies of around 3.5 percent according to CoStar. Proximate to Interstates 40 and 25, both The Grove and The Heights are easily accessible to the entire metro area.
The Grove is located at 12050 Candelaria Road NE. It was built in 1985 and consists of 59 units ranging from 650 to 950 square feet in eight buildings. The 2.1-acre property also includes 87 uncovered parking spaces and a common area with a pool.
The Heights is located at 3101 Lori Place NE. It was built in 1972 and consists of 20 units ranging from 807 to 1,100 square feet. The property is 0.8 acres and includes 20 covered and 10 uncovered parking spaces.
"The acquisition of The Grove and The Heights represents an opportunity to provide two quality communities within a historically strong and growing sub-market in Albuquerque," said Christian Meier, co-founder and managing principal at Westgrove Partners. "We are long-term believers in the local economy and are actively looking to add to our portfolio of assets in the market."
The Grove and The Heights investment brings Westgrove's total portfolio in Albuquerque to 265 units across three separate apartment communities. The investment is RanchHarbor's second acquisition in 2021.
RanchHarbor is currently executing a similar value-add business plan to reposition a 44-unit apartment community in Phoenix. The company continues to actively seek value-add and opportunistic general partner (GP) and limited partner (LP) commercial real estate investment opportunities in select western U.S. markets with targeted equity commitments between $2 million and $8 million.