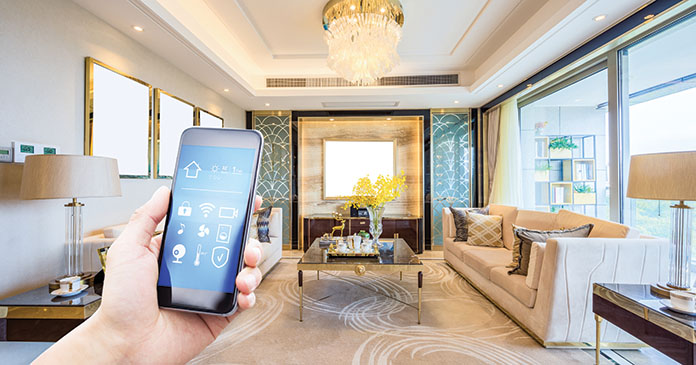 Undeniably, as we progress through 2021, one of the hottest trends in multifamily will continue to be technology and automation.
According to the 2019 Zillow Consumer Housing Trends Report, 43 percent of Gen Z buyers and 35 percent of millennials rated smart home features as "very important."
Although Zillow's 2019 report shows older generations are less concerned with smart technology, we know that the desire for technology will continue to grow as younger generations enter the market to rent and buy and as older generations adapt to its use and convenience.
Evolution of amenities
For decades, as the multifamily amenity wars heated up, residents placed an increasing focus on lifestyle amenities. Just having a gym was no longer appropriate; robust fitness centers with boutique offerings like yoga, spin and rowing became the norm. Basic lounges gave way to designer-finished club and sport spaces, where virtual golf replaced ping-pong, and interconnected coworking suites replaced the ever-so-sterile business centers of the 2000s.
As we progress further into the 2020s, it's becoming clearer that the focus on technology as it impacts the resident experience will play a major role in multifamily design and sustainability. As everyone who ever had an iPod understands, the largest question is, "will what we design and implement today be capable of scale and of serving resident needs for an extended time?
From virtual reality-driven leasing tours in new construction to the proliferation of smart technology in units, multifamily developers are finding that the current pandemic has accelerated the desire for technology. This holds particularly true when it comes to touchless capabilities or controlled access from smartphones and other personal devices.
While at one time, smart homes were perceived to require extensive wiring, many screens, complex controls and the valid fears of rapid obsolescence, residents can now control the entire multifamily experience from palm of their hand.
Smart home 2.0
From video entry systems and security, mobile and biometric access controls to lighting and heat controls to smart-enabled speaker systems and package tracking, technology will scale and can keep up with the times.
Concerns around privacy relative to artificial intelligence (AI) persist, but AI-driven technology will continue to shift behavior and change the way we interact with our homes and the built environment.
AI-driven access controls, facial recognition, resident behavior tracking and amenity controls will give residents more convenience, like adjusting climate, window shades and lighting features without user action. In addition, this technology will give building operators much more analytical data by which to make key decisions relative to energy usage, resident preferences and behavior patterns of people in and around their buildings.
Rise of technology
While many who think about technology consider the resident's direct user experience—and that is without a doubt a major factor—the reality is that within multifamily development, there are many technological updates the consumer never sees. These may include connected building systems such as electrical, security, fire alarm and HVAC systems, all of which can be monitored and managed by a central building management system. This in turn allows for real-time data and AI-driven decision making, resulting in increased efficiency, decreased operating costs and more sustainable buildings as we look to the future.
Back-of-house technology is another area that while mostly unseen, has an outsized impact on the resident life. Automated robotic parking systems that are able to adapt to driving and retrieval patterns lead to more efficient footprints and utilization of space.
In addition, load-balancing EV charging stations that utilize AI to track driving and charging patterns can reduce charge times, increase resident satisfaction all while driving down infrastructure and energy costs.
As the pandemic has accelerated technology adoption at multifamily properties, one of the more obvious impacts centers on the increased shift in work-from-home opportunities. The ability for renters and buyers to access quality building-wide gigabit Wi-Fi either within their units or within the building's common areas, will be crucial to the multifamily experience moving forward.
WFH changes everything
Similarly, residents working from home or from shared in-building workspaces will require additional technology capabilities—print and document production capabilities, video capabilities, the ability to communicate securely and privately in conference rooms or via presentation technology for meetings held at a multifamily building instead of an office.
Although not as impactful as during the pandemic, the trend toward working from home will continue to shift residents' needs and inform their leasing decision. This pattern will undoubtedly require multifamily developers to consider and implement technology amenities previously seen only in commercial office spaces.
As multifamily developers and operators, it's tempting to want to incorporate all technology, not just the technology that is proven and sustainable. Technology decisions should be driven by demographic trends and preferences, resident experience impact and the overall impacts on the pro formas. Those are the metrics with the most impact on what stands the test of time in our buildings.
---
Author Michael Procopio, vice president of development, The Procopio Cos.