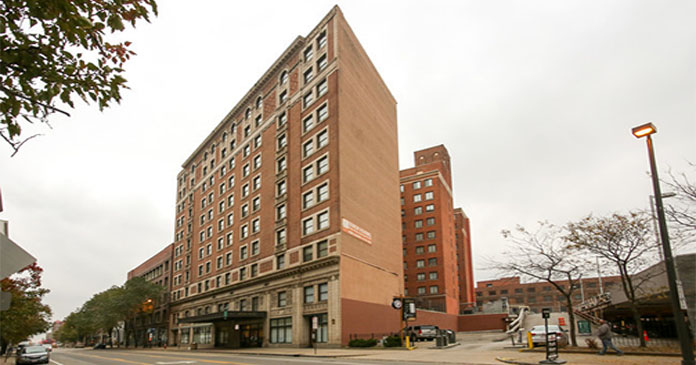 Chicago-based Evergreen Real Estate Group, a leader in the acquisition, development, rehabilitation and management of both affordable and market-rate multifamily housing, today announced it has acquired Carter Manor Apartments in downtown Cleveland. Evergreen plans to update the 270-unit apartment building through an $18 million capital improvement program that will preserve the building's historic facade and restore other original design elements.
Located at 1012 E. Prospect Ave., the 11-story property comprises a mix of 33 studio, 209 one-bedroom and 28 two-bedroom apartments, all of which will be preserved as affordable housing for seniors and disabled individuals.
"Carter Manor is a natural addition to our growing portfolio of affordable and mixed-income housing communities, and I couldn't think of a better way to enter the Cleveland market than by preserving this historic property," said Kevin Beard, director of acquisitions for Evergreen Real Estate Group, which assumed management of the community following the acquisition. "Our substantial investment in the building will benefit existing residents and ensure Carter Manor continues to serve the greater Cleveland community for years to come."
Designed by architect Max Dunning, the building opened in 1917 as the luxurious 600-key Hotel Winton. The hotel's greatest claim to fame was its head chef, Ettore Boiardi, better known as Chef Boyardee. The property was redeveloped as an apartment building following a fire in 1971. The building's facade is currently subject to a Historic Conservation Easement granted by Cleveland's Historic Gateway Neighborhood and Historic Warehouse District.
In addition to the affordable apartments, Carter Manor also has three commercial tenants on the ground floor: Domino's Pizza, Liberty Labor and Guardian Title and Guaranty Agency.  
Evergreen Construction Company, an affiliate of Evergreen Real Estate Group, will serve as general contractor on the renovation work, with construction set to begin in June. Both residential and commercial tenants will remain in place during the redevelopment.
All apartments will be improved with refreshed kitchens, bathrooms and flooring. Additionally, 14 units will receive accessibility upgrades. Evergreen also plans to modernize three of the building's elevators, repair the facade and underground parking garage, replace the roof, and update major mechanical systems. Common area renovations include the addition of a community kitchen and new paint and flooring in corridors.
"We have big plans for Carter Manor that will bring a new level of safety and comfort to residents," said Andre Pintauro, president of Evergreen Construction Company. "Our experience with in-place renovations will minimize disruption to residents and commercial tenants, and our affiliation with ownership allows us to leverage efficiencies as we work toward a target completion date of December 2022." 
The acquisition and renovation of Carter Manor was financed using low-income housing tax credits syndicated by CREA LLC, pre-development financing from Local Initiatives Support Corporation, a bridge loan from Huntington National Bank, and construction financing provided by KeyBank and Freddie Mac.
Downtown Cleveland has experienced significant population growth in recent years, with the population more than doubling between 2000 and 2017. Carter Manor is surrounded by restaurants, just one block from Progressive Field, home of the Cleveland Indians MLB team, and two blocks from Quicken Loans Arena, home of the Cleveland Cavaliers NBA team.