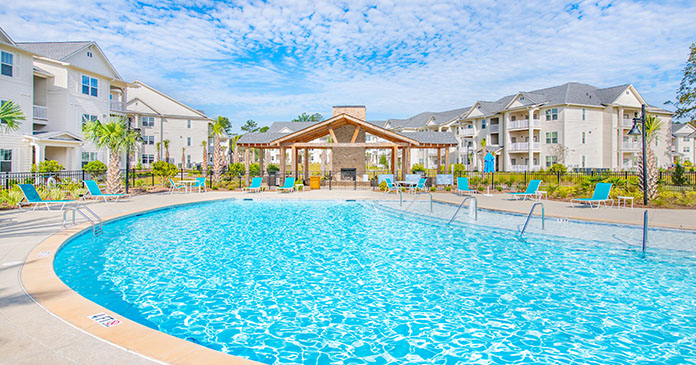 American Landmark Apartments, one of the fastest-growing multifamily owner-operators in the country, announces it has acquired The Mason, a 264-unit apartment community located in Ladson, South Carolina, roughly 30 minutes north of Charleston. The property will receive $1.3 million towards renovation of unit interiors and community spaces.
With this acquisition, American Landmark now owns and manages four multifamily properties in the Palmetto State, all within the Charleston area.
"Charleston's consistent population growth and young, diverse workforce have established strong fundamentals that provide plenty of runway for growth in the region's multifamily sector," said Christine DeFilippis, Chief Investment Officer. "The addition of this class A property highlights the demand that exists for high quality, modern housing in a city with an array of well-paying jobs in the aerospace, automotive, aviation, bioscience, and defense industries, to name a few."
Property improvements will include master closet organizers in master bedrooms, smart locks to all units and common areas, luxury faucets & plumbing fixtures, and luxury lighting fixtures. Community upgrades will feature a package locker system, landscape beautification, summer kitchen, outdoor fitness equipment, and clubhouse enhancements.
Built in 2020, The Mason is located at 1110 Mason Pond Place. Studios, one-, two- and three-bedroom units feature storage units, granite countertops, stainless steel appliances, island kitchens, walk-in closets and a balcony/patio. Community amenities include a business center, clubhouse, playground, swimming pool, hiking trails, and Wi-Fi.
Situated in Charleston County, The Mason is located near multiple transit routes and employers. Interstate 26 is about five minutes away, providing direct access throughout the greater Charleston area. Charleston Southern University is about 10 minutes away, with additional employers like Bosch only 20 minutes away and Charleston International Airport and Boeing approximately 25 minutes away.