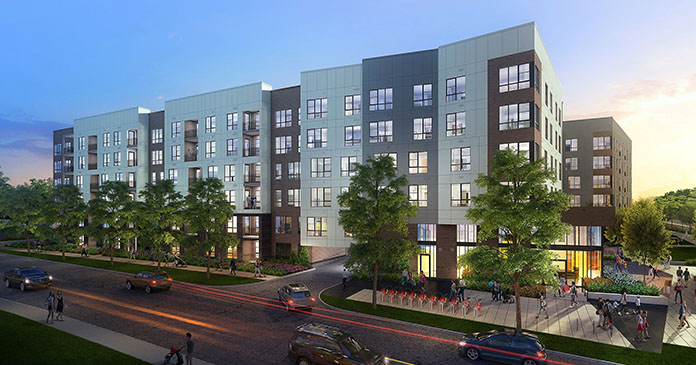 Foulger-Pratt based in Potomac, Md. will develop The Rae at Westlake at 10401 Motor City Drive adjacent to Westfield Montgomery Mall in Bethesda, Md. The five-story, 343-unit building will include 299 market-rate and 44 affordable housing units. $119-million project adjacent to Westfield Montgomery Mall, which is being redeveloped as indoor-outdoor lifestyle center. Submarket is in biotech and life sciences corridor in Montgomery County, home to NIH, HHS/FDA, Walter Reed National Military Medical Center. Oversubscribed offering on CrowdStreet reflects high interest in Washington, D.C. metro market, one of CrowdStreet's "Best Places to Invest in 2021."
46 studio, 170 one-bedroom and 127 two-bedroom units.
On-site amenities will include a dedicated dog run and pet spa, 24-hour fitness center, bocce courts, pedestrian leisure trail, two courtyards with pool and grilling, co-working space and community event space.
The adjacent Westfield Montgomery Mall has 750,000 square feet of retail with over 40 dining destinations, theaters and a bowling alley. The redevelopment will include a 135,000 square foot retail anchor and 128,000 square feet of additional outdoor retail.
The site is located off I-270, which is a major technology corridor; near I-495; and within a biotech and life sciences corridor that includes 350 life sciences companies and extends across Montgomery County from Bethesda to Silver Spring. The prevalence of large federal government operations in the area, including the National Institutes of Health and the U.S. Food and Drug Administration, have been a magnet for private firms access to research and talent.
The project is across the street from the Montgomery Mall Transit Center, which provides bus access to three Metrorail stations and several major employment centers.
Washington, D.C. is among CrowdStreet's "Best Places to Invest in 2021," a national ranking of top markets. CrowdStreet ranks metro Washington (which includes suburban Maryland) as a top 10 market for multifamily development.
440 individual investors on CrowdStreet provided equity for this project. Initial occupancy is expected in the third quarter of 2023.
 Background on project capitalization
$42.7 million sponsor and investor equity, including $22.3 million from CrowdStreet investors
$76.8 million construction loan from Wells Fargo
$119.5 million total development value
Comments:
"The Rae at Westlake is adjacent to Westfield Montgomery Mall, which is undergoing significant redevelopment to become an indoor-outdoor lifestyle center. As the plans come to life, the result will be a vibrant, dynamic live-work-play community. At the same time, growth in the biotech and life sciences sector should generate even more employment opportunities in the area, which in turn should create even more demand for residential product like The Rae."
"We have been following CrowdStreet and watching the size of their capital raises grow. Our success with The Rae demonstrates the platform's potential. It was a very efficient process with a great outcome. We're impressed with CrowdStreet."
Cameron Pratt, Managing Partner & CEO, Foulger-Pratt
"The Foulger-Pratt offering on CrowdStreet is an example of our Marketplace bringing to investors opportunities that reflect our investment thesis, which ranks the Washington, D.C. metro area highly overall and as a top market for multifamily development. Investors on CrowdStreet responded very favorably to this project, pledging over $20 million in one day."
David Govshtein, Managing Director, CrowdStreet