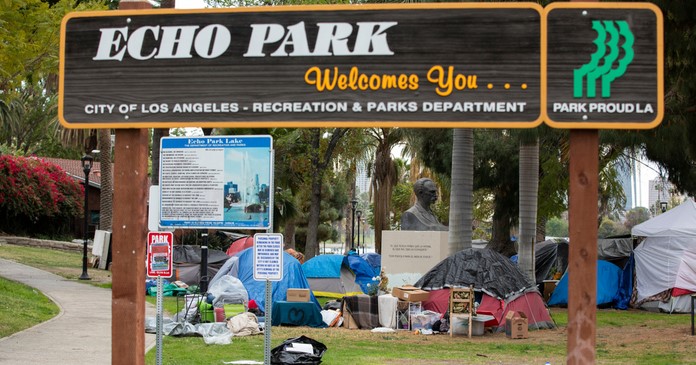 Governor Newsom of California recently signed AB 140 into law. This bill is a trailer to the 2021-21 California State Budget and funds ambitious housing and homelessness prevention programs in the state. It allocates over $12 billion to address homelessness and $10 billion to support housing affordability over the next two years.
The money comes from a surplus in the state's General Fund as well as Coronavirus State Fiscal Recovery Funds grant funds provided to the state in the $1.9 trillion American Recovery Act. Highlights of the spending plans follow.
Addressing homelessness
In the wake of the pandemic, California established Project Homekey, through which the state acquired existing buildings in order to convert them into permanent housing for the homeless or those at-risk of homelessness. The budget provides an additional $2.75 billion for this program over the next two years.
California also established Project Roomkey during the pandemic in order to get homeless people off of the streets or out of crowded shelters. It did this by renting them rooms in hotels and motels. The state currently is renting over 10,000 rooms under this program and over 42,000 people have been housed by the program at some point. The bill provides $150 million to fund the program in fiscal 2021-22.
The budget allocates $2 billion over the next two years to the Homeless Housing Assistance and Prevention (HHAP) program. This program provides flexible funding to local governments for programs they devise to prevent homelessness.
Recognizing that mental health issues are often the root cause of homelessness, the bill allocates $3 billion over two years to mental health board and care funding, conservatorships and Laura's Law funding. Laura's Law allows courts to compel those with severe mental illness and a history of violence to accept treatment as a condition of living in the community.
The budget sets aside $80 million over the next 3 years to provide legal assistance grants to local agencies that work to prevent avoidable foreclosures and evictions.
The budget also allocates funds to address the homeless encampments that have become a feature of the California landscape. It seeks both to transition residents to permanent housing and to remove hazardous materials from the encampments.
Supporting housing affordability
The largest single item under this category is a $3 billion allocation to support lending for first mortgages on single family homes. The bill also provides $260 million for down payment and homebuyer assistance on single family homes.
The bill provides $1.75 billion to fund affordable housing projects which had been stalled waiting for the availability of tax credits.
AB 140 provides $800 million for the preservation of state-funded affordable housing properties that are in danger of losing their affordability protections or being foreclosed upon.
The Infill Infrastructure Grant Program is funded with $534 million to build infrastructure (roads, utilities, etc.) required by affordable housing developments.
The bill also has other, less expensive, provisions. They cover issues such as homelessness among veterans and housing for migrant farmworkers. It also has provisions to streamline the process of building housing on surplus state land.
Governor Newsom, who is facing a recall election, has made addressing homelessness and housing affordability a signature issue. This budget allocates significant funds from the state's current surplus in an attempt to address California's housing problems.