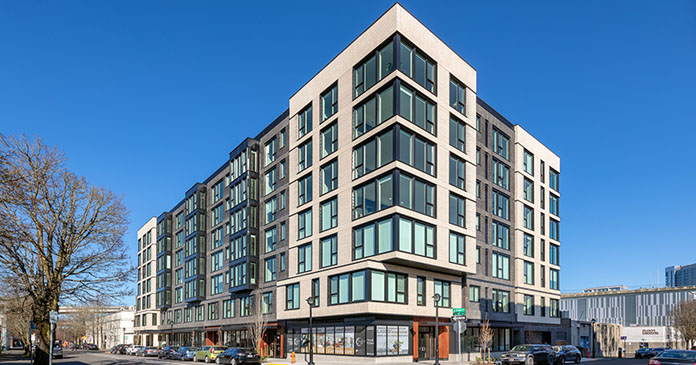 Mesa West Capital continues its wave of multifamily origination activity funding $187.5 million in first mortgage debt secured by communities in Chicago, Illinois; Phoenix, Ariz. and Portland, Oregon.
In the largest of the three separate financings, the Los Angeles-based debt fund manager and portfolio lender provided a joint venture between Chicago developer JDL, Harlem Irving Companies and funds managed by an institutional real estate manager, with an $85.2 million loan to refinance Eight Eleven Uptown, a 27-story luxury residential tower in Chicago's Uptown neighborhood. Brought to market in 2019 by JDL, the property located at 811 W. Agatite Avenue includes 273 multifamily units made up of studio, one-, two- and three-bedroom floorplans and eight fully leased townhomes. Peter Rubi Fresh Produce has leased 21,000 of the 30,000 square feet of street-level retail space to operate an on-site grocery, which will open later this year.
"Leasing velocity at the property was brisk prior to the onset of the pandemic," said Mesa West Capital Executive Director Matthew Sndyer, who originated the four-year, floating rate financing out of the private lender's Chicago office. "The property has seen significant leasing traction since COVID restrictions have been eased."
Mesa West Capital also provided a $49.35 million first mortgage loan to real estate development and investment firm Holland Partner Group to refinance Kado Apartments, a recently completed 199-unit apartment development in the Slabtown neighborhood of Northwest Portland. The seven-story residential building at 1378 NW 18th Avenue, features a mix of floor plans ranging from studios to three-bedroom apartment homes. In addition to taking out the existing construction loan, proceeds from the five-year, floating rate loan will be used by the sponsor to stabilize the property, which was 85 percent occupied at loan closing. Additionally, the sponsor will convert a portion of the existing street level retail space into three additional live/work units.
Josh Westerberg, a Director in the Mesa West Capital San Francisco office who originated the financing, explained: "The Northwest Portland submarket is a central commuter suburb that has experienced rapid development over the last decade. Slabtown in particular is well-located, with many residents either working in the neighborhood or commuting to adjacent Downtown Portland for work via public transit. While Northwest Portland provides great accessibility to the Downtown Portland core, many notable companies including Legacy Health, Adidas and WebMD also operate directly within the submarket."
Mesa West Capital also provided an affiliate of Sares Regis Group with $53 million in first mortgage debt for the acquisition and repositioning of Level at Sixteenth, a 240-unit apartment property in Phoenix, Ariz. As part of its investment strategy, Sares Regis plans to complete an extensive remodel of the property which—was built in 2010—including renovations to the exterior and common areas in addition to interior upgrades to the property's studio, one- and two-bedroom units.
"While in good condition, the property is of slightly older vintage than that of its surrounding competitive set," said Mesa West Capital Vice President Danielle Duenas who led the origination team. "Our financing enables the Sponsor to implement a capital improvement plan and reposition the asset to compete favorably with newer product, ultimately realizing a net increase in rents. The property also benefits from its proximity to strong submarkets including the Camelback Corridor and Midtown."
The financings are the most recent examples of how debt funds are adding to the increased liquidity for multifamily assets, particularly those with strong sponsorship, according to Principal Ronnie Gul.
"While the segment has fared well, it is still a market-by-market and asset-by-asset decision," said Gul. "Capital is readily available to those sponsors who have successfully navigated the difficult period of increased concessions, rental and credit loss. As concessions start to burn off and fundamentals improve, we will continue to place a heavy emphasis on multifamily assets in markets exhibiting strong job and population growth."
The financings follow Mesa West Capital's $40 million loan last month to finance the acquisition of a 309-unit apartment community in Austin. Over the past 24 months Mesa West Capital has originated more than $300 million of loans  across seven multifamily assets in the Austin Metro alone.