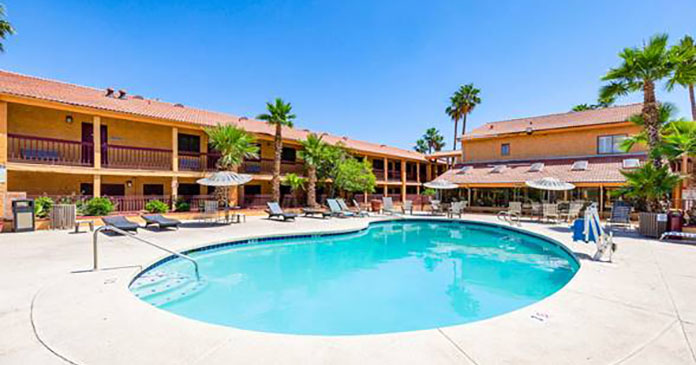 ABI Multifamily, the leading multifamily brokerage and advisory services firm in the Western US, is pleased to announce the $13,200,000 / $110,000 Per Unit / $232.66 Per SF sale of 1410 South Country Club Drive, a 120-unit hotel-conversion property located in Mesa, Arizona.
Currently operating as an American Inn & Suites Hotel, this 120-unit community is comprised of (34) studios, (74) 1-bedroom/1-bathroom units, and (12) 2-bedroom/2-bathroom units. The property has the ability to seamlessly convert into a multifamily community as each unit is equipped with full kitchens that include a refrigerator, oven range, microwave, and breakfast bar. Each unit also has a full bathroom with large vanities and combination bathtub and shower. Enclosed within the two-story building is a large common area which features amenities such as an outdoor swimming pool, spa tub, fountain and fish pond, as well as a large ramada pool bar. Additional property amenities include a fitness center, large breakfast room, elevator, offices, lobby with a front desk, and ample parking with 128 total spaces.
1410 South Country Club Drive is situated in a premier location for those looking for new employment options, as Mesa ranks as one of the top cities in America as "Best Places for Job Seekers in 2021" not too far down the list from Scottsdale, which ranked in the top 10 according to a WalletHub report. Facing Country Club Road, 1410 South Country Club Drive is in a prime location for transportation, as it is within walking distance to public transportation and a short drive to the US-60 Freeway. The property is located just minutes from Stripe Show Golf Club, Sunsplash Water Park, Starbucks, Banner Health, and numerous other outlets including national chains and decorated small businesses.
Mitchell Drake, Vice President at ABI, states, "1410 South Country Club Drive is an amazing opportunity for the right investor. The deal hoists tremendous value-add potential not only through interior and exterior renovations but also through zoning and use change which will allow for the property to operate as a traditional multifamily asset rather than hospitality. The building differentiates itself from most hospitality product due to the fact that each unit is outfitted with full kitchens that include refrigerator, oven range, microwave, and breakfast bar." He continues, "The Buyer plans to meet with the City of Mesa and submit their application to rezone 1410 South Country Club Drive to multifamily-use within the next 6 months".
ABI Multifamily's Mitchell Drake, Dallin Hammond, and Carson Griesemer represented the buyer and seller in this transaction.
The buyer and seller are based in Arizona.