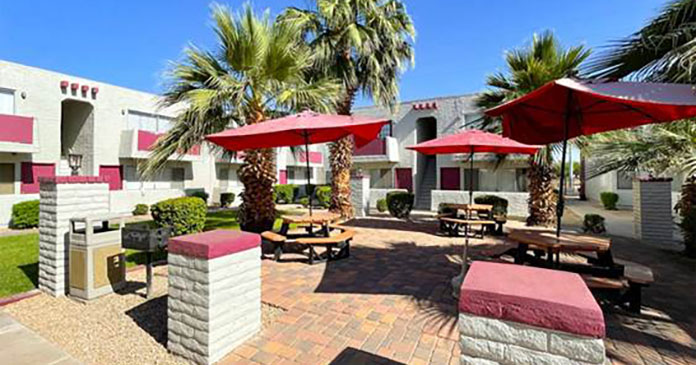 ABI Multifamily, the leading multifamily brokerage and advisory services firm in the Western US, is pleased to announce the $32,850,000 / $157,933 Per Unit / $230.69 Per SF sale of Veranda & Sunflower Apartments, a 208-unit multifamily apartment community located in Glendale, Arizona. ABI Multifamily's Phoenix-based Institutional Apartment Group—Alon Shnitzer, Rue Bax, Eddie Chang, and Doug Lazovick represented the buyer in this transaction. ABI Multifamily's Private Apartment Team—Carson Griesemer, Dallin Hammond, and Mitchell Drake represented the seller in this transaction.
Veranda & Sunflower Apartments is a 208-unit, fully gated garden-style apartment community in the South Glendale submarket of Glendale, Arizona. Built in two parts, with 120 units completed in 1972 and 88 units completed in 1974, the property consists of 22 two-story rental buildings constructed of wood frame and stucco with flat roofs resting on approximately 5.21-acres.
The property is comprised of 39 studio units, 139 one-bed / one-bath units, and 30 two-bed / one-bath units with a weighted average of 685 square feet. They are individually metered for electricity and all units include air conditioning / heating, refrigerator, dishwasher, ceiling fans, garbage disposal, and patio / balcony. Community amenities include three swimming pools, laundry facilities, barbecue grills, courtyard, gated entry, and open / covered parking.
Veranda & Sunflower Apartments is situated just a few miles from the Westgate Sports and Entertainment District, Downtown Glendale, and Grand Canyon University and is also within walking distance to Glendale Community College. It is also near a multitude of major transportation corridors such as: Grand Avenue (Highway 60), Agua Fria Freeway (Loop 101), and the Black Canyon Freeway (Interstate 17).
The buyer, Intrust Property Group, a California-based firm, joint ventured with Sunrise Multifamily, an Arizona-based company. The seller, Margreen Properties, is based in California.