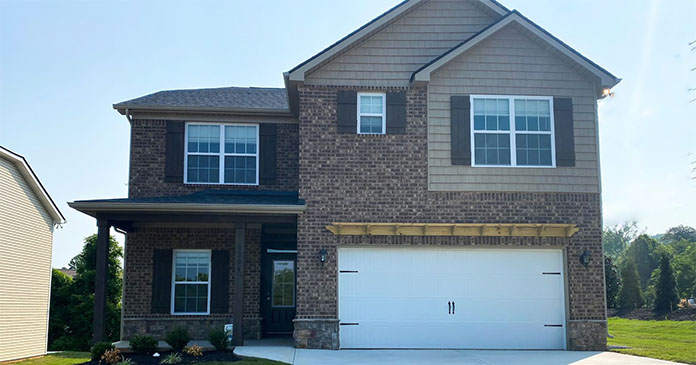 Haven Realty Capital has expanded its Single Family Rental portfolio after closing on the completed first phase of its $23 million acquisition of Windermere Trails, a 54-home dedicated rental community (DRC) now under construction in Knoxville, Tenn. This is Haven's first DRC acquisition in The Volunteer state.
Windermere Trails is being developed on a 21-acre site at 11103 Hardin Valley Rd, in Knoxville. Each of the two-story, 2,180-square-foot homes offer four-bedrooms, 2.5 baths, attached garage, engineered hardwood floors, stainless steel appliances, granite countertops, and tile backsplash. Several homes also include the "Gameday Package," an exterior back porch area that includes an extended roof overhang, wood burning fireplace, stone mantle, ceiling fan and TV hookup outlets.
The remaining homes in the development will be acquired in phases from the homebuilder over the next four months following issuance of the certificate of occupancy. The development is on track to be fully stabilized by November 2021.
Haven controls approximately $500 million in DRC's in different phases of development, construction, and leasing. The portfolio now includes 17 DRCs across 7 states including Arizona, Georgia, Illinois, Nevada, North Carolina, South Carolina, and Tennessee totaling more than 1,700 homes. The firm plans to double its number of homes under control over the next 12-18 months, according to Haven Realty Capital Managing Principal Sudha Reddy.
"We're seeing growing interest in single family rental homes from families and individuals who want to transition out of homeownership or remain in the rental market but still enjoy the benefits of larger living spaces in suburban environments," Reddy said. "Our experience in the single-family rental sector, along with our longstanding relationships with the country's top homebuilders and an escalating investor base with a strong appetite for the asset class, has allowed us to continue to expand our portfolio and build scale over a short period of time."
Haven has focused much of its initial development in the Southeast because of the continuing influx of people from around the country who are relocating to lower-cost-of-living markets like Knoxville to live and work. The Knoxville MSA has strong employment in higher paying jobs, and the median household income within one-mile of Windermere Trails is $94,000.