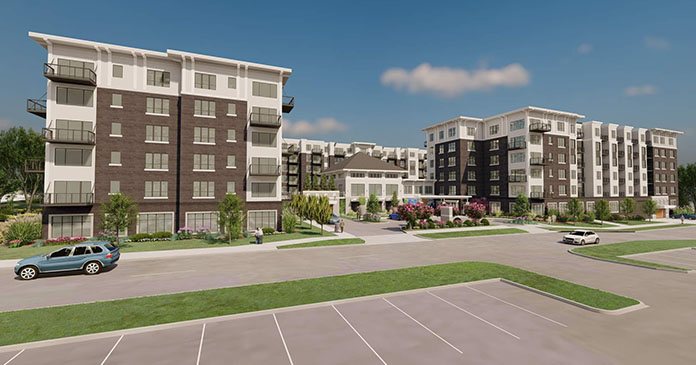 A joint venture of PCCP, LLC and Doran Companies announced it will develop a class A, 350-unit multifamily project located on 5.15 acres at 5959 Shady Oak Road, in Minnetonka, MN. Groundbreaking is expected within a month, and the first units are anticipated to be available for rent in spring 2023.
"5959 Shady Oak provides PCCP the opportunity to partner with Doran Companies, a well-respected multifamily developer in the Twin Cities," said Alexandra Schultz, Vice President with PCCP. "This project will help meet the demand for high-quality rental product in Minnetonka, a preferred suburb of the Twin Cities with good access to a number of employers."
"We appreciate PCCP's confidence in Doran Companies to deliver an exceptional multifamily project," said Anne Behrendt, CEO and Principal with Doran Companies. "Our collective vision of the project will support local businesses and employers and contribute to the long-term viability of the city."
The project consists of market and affordable studio (8 percent), alcove (14 percent), one-bedroom (57 percent), two-bedroom (17 percent), and three-bedroom (4 percent) units. Upon completion, the project is expected to exceed the energy code by utilizing several green building and design features including electric car charging stations, enrollment in a community solar garden, enhanced stormwater management system, occupancy sensor controls, and programmable energy star components in individual units. On-site amenities are expected to be extensive and include a dog park, community garden, clubhouse, activity green, outdoor patio, pool deck with grills, multiple entertainment suites, and abundant garage parking spaces.
The project is adjacent to Opus Park, which is uniquely positioned near several corporate employers including Cargill, UnitedHealth Group, Optum Health, General Mills and Mosaic. Additionally, an extension of the light rail system is slated to deliver a stop within walking distance of the site in 2023. Finally, it is anticipated that 5959 Shady Oak will offer residents walkable retail and restaurant amenities directly across the street from the project.