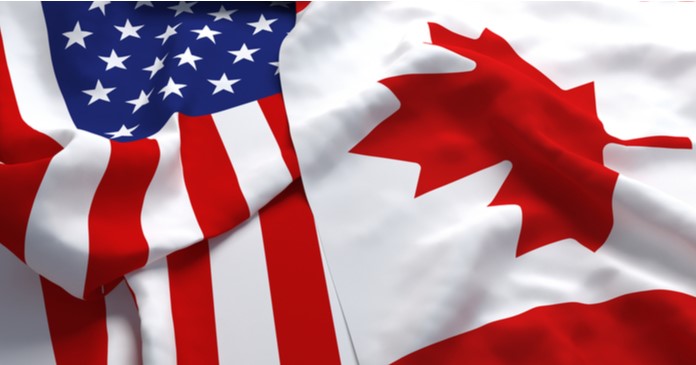 A new report from CBRE found that both the dollar value of foreign investment in multifamily properties as well as foreign investment's share of total investment fell during the first half of 2021.
Total foreign investment in multifamily was $3.2 billion in H1 2021, representing 3.6 percent of the total invested in multifamily in H1 2021. The dollar amount is 6.7 percent lower than the level of international investment in the same period of 2020 and 42.8 percent lower than the level in the same period of 2019.
Foreigners are different
Compared to domestic multifamily investors, international investors have historically been more likely to invest in high dollar value mid-rise and high-rise assets in major metro areas. However, the pandemic-related stress affecting these assets may have dampened interest in them recently, resulting in a shift to more garden-style assets being purchased.
The difficulties of international travel over the last year has also been an impediment to foreign investment and may have contributed to the relatively low level of foreign investment activity during this period.
CBRE reported that 69.5 percent of international multifamily investment was directed to just 10 metro areas. Atlanta received the highest level of investment followed by Dallas, Phoenix and Baltimore. The three Florida metros of Orlando, Tampa and Miami were target markets as were Washington D.C., Indianapolis and Portland. Traditional magnets for foreign investment, like New York City and Los Angeles, have attracted less investment recently and were not in the top 10 metros during H1 2021.
Who is investing?
CBRE looked at the investment data from a variety of angles. Two of them were the country of origin of the capital being invested and the sort of entity doing the investing. The first chart, below, shows which countries have been providing the bulk of foreign investment in multifamily properties recently.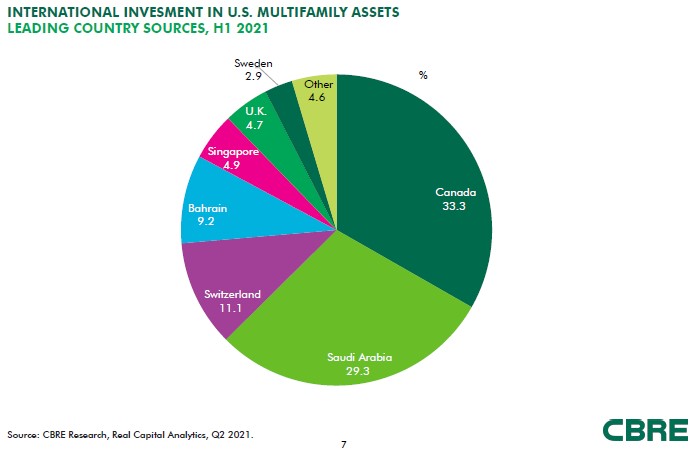 The largest source of foreign investment, with one third of the total, was Canada. This is a relatively low share of foreign investment for Canada, which is the perennial leader in foreign investment in U.S. multifamily properties. Canada's share of investment was as high as 65 percent in 2018.  Saudi Arabia's share of investment was unusually high this period due to a single large portfolio purchase.
The last chart, below, shows how the share of foreign investment in multifamily property has changed over the last 10 years by the type of entity doing the investing. Investment managers provided 58 percent of investment in H1 2021, with developer/owners providing 15 percent and equity funds providing 11 percent.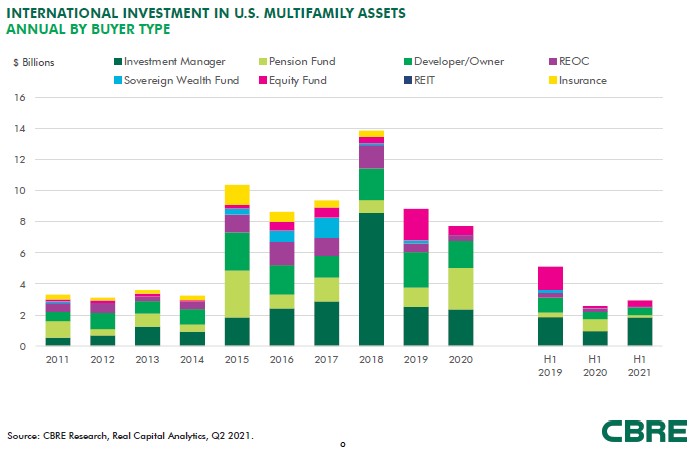 The details
CBRE considered real estate transactions of $2.5 million or more in compiling its figures. It looked only at direct acquisitions of individual multifamily properties or of portfolios of multifamily properties. It did not consider more indirect investments such as the purchases of REIT stocks or investment funds.
The report is called U.S. Multifamily Inbound Investment Trends. It contains additional information on the types of assets being purchased and on how international investment has changed over the years. The full report can be found here.