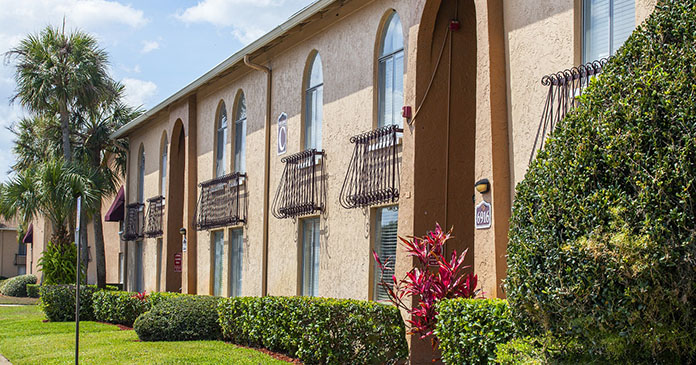 Cushman & Wakefield announced that the commercial real estate services firm has arranged the sale of Parc Place Villas, a 300-unit apartment community located in Tampa, Florida, on behalf of Coastline Management Group Inc. and EMC Capital Group LLC. The final sale price was $41.25 million.
Mike Donaldson and Nick Meoli of Cushman & Wakefield represented the sellers in the transaction. Infinity BH Real Estate Investments acquired the property.
"The sale of Parc Place Villas marks another offering with strong buyer interest in a value-add community in one of the most sought-after markets in the country," Donaldson said. "With Tampa Bay continuing to experience unprecedented growth of more than 15% year-over-year in rental rates, the investment community continues to target the region in astounding numbers as evidenced by the more than 300 buyers that registered to consider the opportunity."
Located at 6919 Bonair Drive, the property includes one- and two-bedroom units and was 95 percent leased at the time of the sale. Amenities include two swimming pools, a state-of-the-art fitness center, a clubhouse, dog park, playground and on-site laundry facilities.
"Parc Place Villas had received considerable renovations over the years and is now poised for additional upgrades to modernize the community, with the ability capture an additional $1.3 million in revenue after implementing the value-add program," Meoli said. "Workforce housing continues to experience incredible momentum with many communities fully occupied and achieving the double-digit rent growth throughout the region."
"Our team at The Coastline Management Group is especially proud of our work here in Tampa," said Eyal Mehaber, President and Co-Founder. "We have successfully improved the value of this asset by raising rents by 30 percent in spite of the pandemic. Our team worked diligently to continue to improve the overall condition of the property and maintain steady collections. We strongly believe that there is still a lot of growth potential in and around the Tampa market. We continue to look at value-add opportunities."