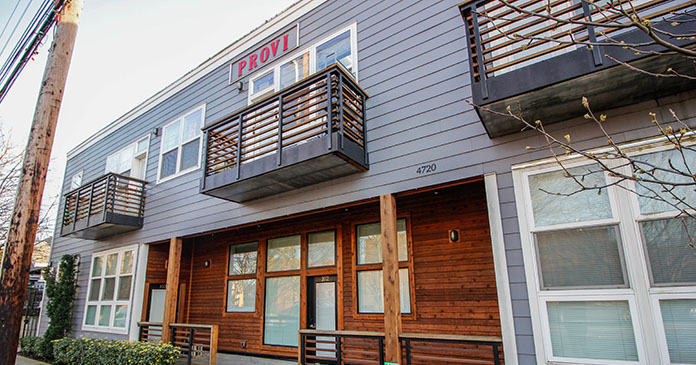 Levin Johnston of Marcus and Millichap, one of the top multifamily brokerage teams in the U.S. specializing in wealth management through commercial real estate investments, has announced the sale of a two-property multifamily portfolio that represents an expansion of the firm's services into the Portland, Oregon market.
The portfolio disposition comprises a total of 35 units across Northern California and Portland, culminating with the sale of Provi Apartments in the prime Laurelhurst neighborhood of Portland.
"This sale represents a trend of California capital seeking and finding strong yields in more up-and-coming markets like Portland," says Adam Levin, Executive Managing Director of Levin Johnston. "Total employment rates in the Portland Metro Area are expected to rise by 6.7 percent by the end of 2021, bouncing back from a decrease in 2020. Drawing on this rapid regional growth and the property's irreplaceable location in one of the most sought-after neighborhoods in Portland, our team was successful in securing premium pricing for this well-appointed asset."
Levin Johnston's parent company, Marcus & Millichap, reports that the rents in the Portland Metro Area have remained stable throughout the pandemic, in comparison to other West Coast markets—a factor that further solidifies investor appetite for this resilient market according to Robert Johnston, Senior Managing Director of Levin Johnston.
"Our clients look to us for deep knowledge and advice on where to find value in an ever-tightening market," says Johnston. "Through this portfolio sale, we were able to help a long-time investor achieve its disposition goals while presenting a new buyer with the rare opportunity to acquire a multifamily asset in a single-family neighborhood near Downtown Portland."
Eymon Binesh, a Senior Associate with Levin Johnston, served as the lead on the transaction.
"The Portland market is changing quickly, making local 'on-the-ground' knowledge critical to a successful property trade," says Binesh, a Portland native. "Provi Apartments benefits from a rare location in a primarily single-family neighborhood in close proximity to the area's largest employer, Providence Portland Medical Center. The market continues to demonstrate an uprise in rental demand driven by suburban in-migration and the region's relative affordability as compared to other West Coast markets."
According to Binesh, the Portland market has shown positive signs of recovery following the effects of the pandemic, with vacancy rates dropping 10 basis points overall.
"Renters and investors are drawn to Portland based on its high quality of life, diverse activities, and active social lifestyle—all of which fuel strong, stable rental demand," Binesh continues. "In addition, the city's history of zoning changes has impacted the multifamily development pipeline, contributing to an even deeper demand for rental units and thereby more opportunity for investors."
Situated just four miles from downtown, Provi Apartments is comprised of studios, one-bedroom and two-bedroom units and offers residents access to public transportation and close proximity to Interstate 80 for everyday commuting needs. The property features a community courtyard, bike storage, and in-unit washer/dryer combos, among other amenities.
Provi Apartments is located at 4720 NE Glisan Street in Portland, Oregon, close to a variety of parks and educational institutions. Adam Levin, Robert Johnston, and Eymon Binesh of Levin Johnston represented the seller and procured the buyer in the $4.7 million transaction. The same team represented the seller, a private California investor, in the $4 million sale of the other portfolio property, located at 664 Morse Ave in Sunnyvale, California.