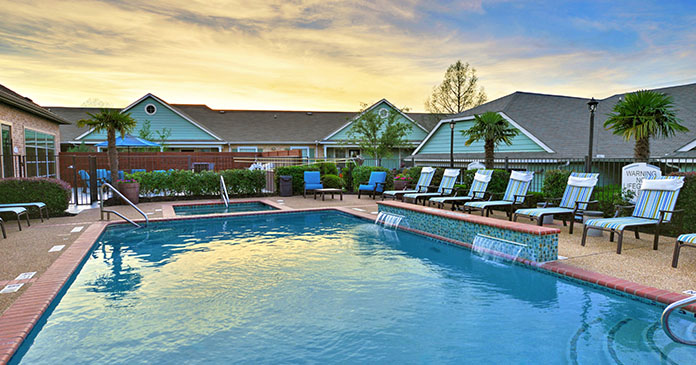 An affiliate of Livingston Street Capital, a boutique private equity firm focused on commercial real estate investments throughout the U.S., has acquired a portfolio comprising two Active Adult (55+) multifamily communities totaling 402 units in the Dallas-Fort Worth area of Texas.
The properties include: a 162-unit community in Fort Worth, Texas, which the firm has rebranded as The Spring at Silverton; and a 240-unit community in Denton, Texas, which the firm has rebranded as Sunstone Village. These assets bring Livingston's Active Adult and Independent Living portfolio to nearly 600 units in the Dallas-Fort Worth market and more than 1,500 units nationally, according to Peter Scola, Founder, President, and Co-CEO of Livingston Street Capital.
"As we continue to identify and target communities in locations throughout the country that offer the quality of life that today's 55+ residents desire, we've been bullish on the Dallas-Fort Worth area based on its balance of metropolitan conveniences and outdoor amenities that promote independent, robust lifestyles," explains Scola. "The MSA features exceptional in-place demand from this demographic, with the population aged 65 to 79 increasing 74 percent over the last 10 years and expected to grow an additional 24 percent by 2025, according to Esri data."
The purchase of this portfolio, which comes on the heels of the firm's first acquisition in the market, Haven at Lewisville Lake in Lewisville, Texas, will allow Livingston to leverage existing relationships, amass economies of scale, and continue to build upon a strong reputation regionally, notes Scola.
"The opportunity to more than triple our Active Adult unit count in this market was well timed as we strategically deepen our operations platform in the sector," continues Scola. "We are actively seeking out communities that fit our investment model in this area and are looking at similarly expanding within other markets throughout the United States."
Scola notes that the previous ownership invested in significant capital upgrades at both The Spring at Silverton and Sunstone Village, expanding and enhancing amenities.
"As one of the leading owners and operators who targets solely Active Adult and Independent Living communities within the seniors housing sector, rather than facilities that provide care, we are wholly committed to providing top-notch amenities and programs that promote comprehensive wellness for our active, autonomous residents," explains Scola. "These assets dovetail perfectly with our strategy to facilitate these lifestyles at our communities, while offering relative value compared to highly amenitized new construction."
The Spring at Silverton is located at 3850 Silverton Circle in Fort Worth, near several convenient daily-needs retailers including Albertsons, Aldi, Kroger, and Walmart. The property is within walking distance of Candleridge Park, which boasts a 4.5-acre lake and 2.5 miles of trails. Additionally, residents are a short drive from Benbrook Lake, a 3,635-acre lake that is home to multiple parks and activities such as boating, camping fishing, and swimming. The community is bound by Interstate 20 to the north and Interstate 35W to the east, providing residents with convenient access to Dallas, Arlington, and Waco.
Community amenities include a resort-style pool, outdoor lounge with kitchen, salon, fitness center, a nature trail, and several elevators for convenient access throughout the community. The property offers one-, two-, and three-bedroom units that feature walk-in closets, granite countertops, wood-style flooring, and modern lighting fixtures.
Sunstone Village is located at 2801 Spencer Road in Denton in close proximity to Interstate 35, which provides convenient access to both Dallas and Fort Worth. The community is less than a mile from Denton Crossing, a retail center featuring more than 30 stores. Residents also benefit from the nearby Denton Senior Center and Clear Creek Natural Heritage Center, which includes nearly 3,000 acres of green space with natural wildlife and several walking and hiking trails.
Community amenities include a resort-style pool with a poolside lounge, movie theatre, fitness center, and community gardens. The property offers one- and two-bedroom single-story, cottage-style homes featuring walk-in closets, wood-style flooring, stainless steel appliances, and modern lighting and ceiling fans.