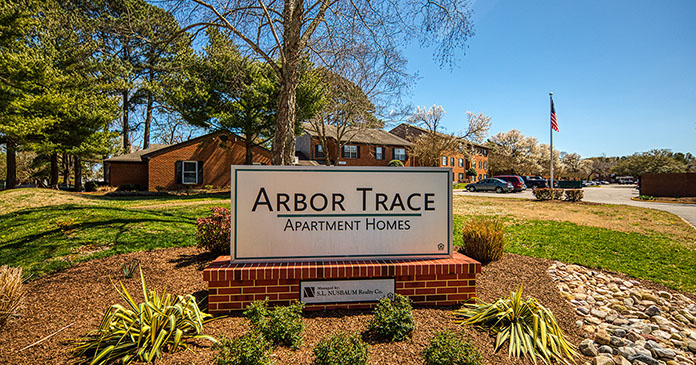 S.L. Nusbaum Realty Co. is pleased to announce Arbor Trace Apartment Homes was purchased for $28.175M (approx. $190,000 per unit) on September 10, 2021. Bill Overman, CCIM, John Wessling, CCIM and Paul Peck represented the Buyer, Hill Property Partners, LLC in the transaction.
The community is located within the desirable Oceanfront submarket at 624 Suhtai Court in Virginia Beach, VA, just 8 minutes from the beach, and is comprised of 148 units, all which are two-bedrooms. Amenities include a dog park, swimming pool with sundeck and a fitness center. New ownership plans on upgrading the current amenities as well as renovating dated apartments to a more modern aesthetic, which will include upgraded flooring, stainless steel appliances and all new fixtures and finishes throughout the units.
S.L. Nusbaum Realty Co. will continue to provide management services for the property.
With a fierce bidding war over a period of 3 months, the transaction did not come easily, but ultimately resulted in a positive outcome for all parties involved, with Hill Property Partners being selected as the most qualified and committed group.
"HPP is very excited to be entering the Hampton Roads market, with the purchase of Arbor Trace Apartment Homes. HPP plans on enhancing an already established community and making it an even better place for our tenants to live.  This purchase would not have been possible without the persistence and professionalism of the S. L. Nusbaum brokers. Paul, Bill, and John who helped us craft a deal that won out over nearly 20+ offers," said Mitchel Hill from Hill Property Partners LLC.
Hill added, "The Nusbaum management team has done a great job with this property for the last several years and we are looking forward to them helping us take it to the next level."
"With the team that is in place, this asset is sure to be taken to the next level and become a major contender in the Oceanfront's highly desirable market rate apartment communities," said Bill Overman, CCIM.
The seller, Ginkgo Arbor Trace, LLC was represented by Cushman & Wakefield.