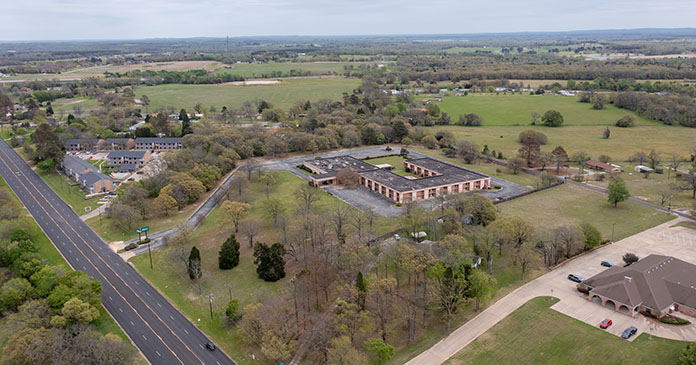 The Multifamily Group (TMG), a Dallas-based commercial real estate brokerage firm, announced that it had facilitated the sale of the former Quality Inn & Suites in Athens, Texas. Advisor Greg Miller represented the buyer.
Profectus Multifamily Capital (PMC), a Dallas-based privately held real estate investment company, worked with the City of Athens, Texas, during the due diligence period to get the re-zoning and hotel conversion plan approved, which converts the former vacant hotel into 122 modern efficiency apartments. PMC's plan also includes adding common area amenities such as a resident community center, gym, business center, dog park, outdoor recreational area and a new restaurant and/or coffee shop open to the public. The property was built in 1981 and is on 14+ acres that will allow the owners ample space to develop additional units down the line.
"We are excited to revitalize the iconic hotel on the hill of Athens, Texas, which has been vacant for over a decade by converting the former Quality Inn & Suites into Athens Reserve Apartments," said Adriana Yazbeck. She adds, "With apartment vacancy at just 1.9 percent and no planned multifamily development in Athens, this project expands much needed multifamily housing by 122 units while bringing economic growth, job creation and increased property tax revenue to the City of Athens".
"The seller previously made several unsuccessful attempts to sell the property as a vacant hotel. Luckily, Greg Miller saw the potential this property had to be repositioned as a B class apartment community. He was able to bring this hotel conversion opportunity to his buyer and structure a contract that allowed sufficient time to work through the zoning change during the diligence period," said Jon Krebbs, Managing Partner with TMG.