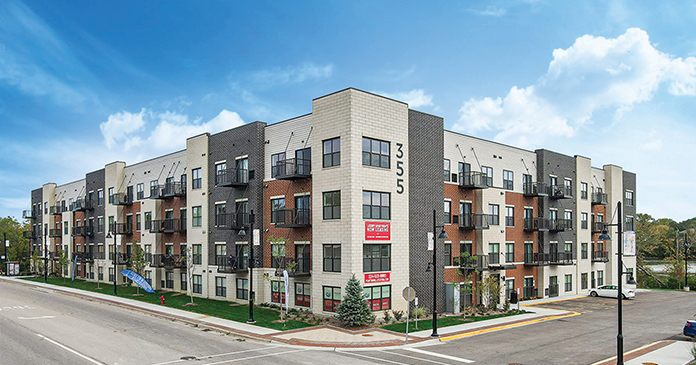 Interra Realty, a Chicago-based commercial real estate investment services firm, announced it brokered the $24.5 million sale of Panton Mill Station, a new 100-unit luxury rental community at 355 N. La Fox St. in South Elgin, Ill., on the Fox River about 40 miles northwest of Chicago. It is the largest apartment transaction in the South Elgin submarket in more than 20 years, according to CoStar.
Interra co-founders and Principals Jon Morgan and David Goss represented the seller, an affiliate of Chicago-based Synergy Construction Group, which completed the building in spring 2020. Interra ran a competitive bid process and received multiple offers. The winner, MTA South Elgin, was represented by Interra Managing Partner Patrick Kennelly and Director Paul Waterloo.
"We have seen a continued uptick in suburban investment activity driven by the strong performance of these assets—especially newly constructed rental communities—during the pandemic," said Morgan. "Demand for single-family suburban homes got a lot of attention this year, but many households still prefer the flexibility of renting. Properties like Panton Mill Station have filled a void in the market by bringing modern apartments to suburban areas that, until recently, had few if any comparable options available."
"When we completed the building in early 2020, we were not sure what kind of market we faced," said Phil Domenico, principal of Synergy Construction Group. "But we had a very strong lease-up, attesting to both the quality of the product and overall health of the suburban rental market. The property has idyllic views of the Fox River from a majority of the units and is across the street from Panton Mill Park, which was recently renovated by the village of South Elgin."
Panton Mill Station includes 56 one-bedroom and 44 two-bedroom residences, which were 100 percent occupied at the time of sale. Units have stainless steel appliances, in-unit laundry and walk-in closets. On-site amenities include business and fitness centers, an outdoor kitchen and pet wash.
The apartments are adjacent to the Fox River Trail and offer easy access to restaurants, shops and entertainment in downtown South Elgin. Elgin Community College, City Hall and several large employers also are nearby. Panton Mill Station is served by Pace buses and approximately 3 miles from the Elgin Metra station.