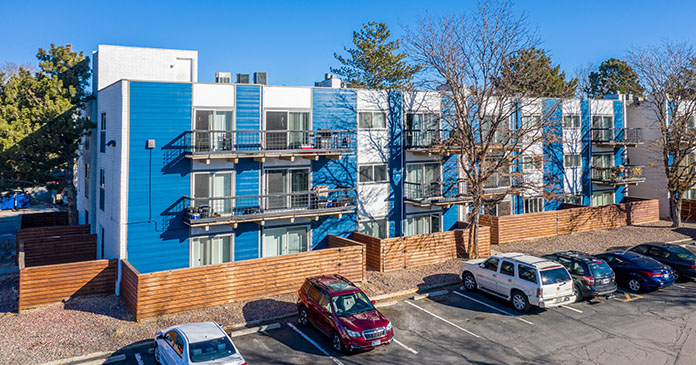 A joint venture of PCCP, LLC and Trion Properties announced the acquisition of Loft 9 Apartments, a 418-unit low-rise apartment community located at 11100 E Dartmouth Avenue in Denver, CO.
Built in phases between 1975 and 1978, Loft 9 is situated on 10.6 acres and is comprised of five, three-story buildings with two interior court yards, two pools, a fitness center, a sport court, and an indoor basketball court. The unit mix includes two studios, 362 one-bedroom units and 54 two-bedroom units with an average unit size of 838 square feet (sf). The property is surface parked with 574 stalls.
"This marks our second acquisition in Colorado this year with Trion Properties, an experienced, multifamily operator and investor," said Matt Cochran, a vice president with PCCP. "Loft 9 Apartments provides us with an attractive opportunity to own a well-located apartment community in the growing Denver market."
The seller, who acquired the property in 2018, recently completed significant upgrades to the asset including renovating common areas and upgrading the amenities, painting the exterior of all buildings, completing HVAC improvements and renovating 121 units. The new ownership plans to invest additional value-add capital to continue to improve the property and renovate units.
Loft 9 Apartments is located in southeast Denver and provides convenient access to I-225 providing a quick commute to the Denver Tech Center (10 minutes), the Fitzsimons Medical Campus (15 minutes), and the Denver International Airport (25 minutes).