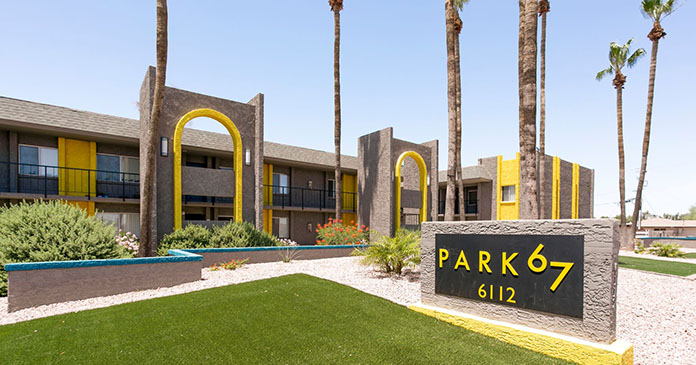 Westport Properties, a premier owner/operator of self storage and multifamily properties nationally, announced that it has sold Park 67, a 160-unit multifamily community in Glendale, Arizona under the entity Vertex Glendale, LLC to an undisclosed buyer for $30.4 million. Westport Properties acquired the property for $14.7 million in January 2020.
Located at 6112 N 67th Avenue, Park 67 features one- and two-bedroom units ranging in size from 655 to 855 square feet with rents ranging from $850 to $1,175. The community features covered parking, covered ramadas, air conditioning, spacious closets, pool, barbeque area, window coverings and laundry facilities.
"We were able to acquire Park 67 at a great price, a 6.5 cap rate due to the loan assumption," David Grissom, Managing Partner, Westport Residential, LLC, an affiliate of Westport Properties. "Our team was able to grow rents by renovating the property and making it a more desirable place to live. The residential market in the Phoenix area has been very strong this year which also enhanced our ability to increase the property's value."
Jesse Hudson, Trevor Koskovich, Bill Hahn and Ryan Boyle from NorthMarq Phoenix represented Westport Properties and the buyer in the transaction.
"Park 67 is an excellent example of the rent growth opportunity in the Glendale market," says Hudson. "The Phoenix multifamily market continues to move at a substantial pace. Park 67 marks our team's seventh multifamily sale this month, with three additional transactions scheduled to close before year end."