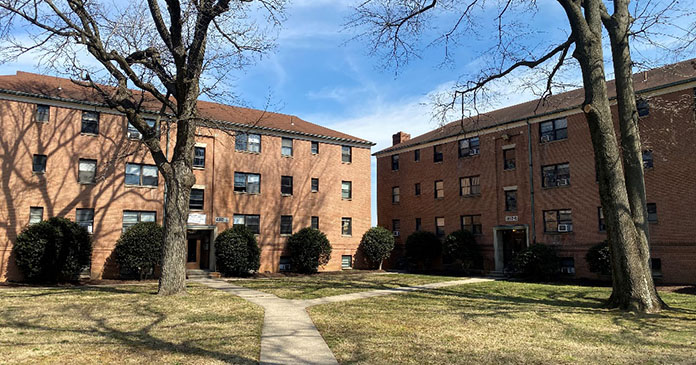 Washington Property Company (WPC) has acquired an 81-unit portfolio comprising three low-rise apartment communities near the University of Maryland-College Park (UMCP) for $14 million.
The seller, JE Smith Corporation, was represented by CBRE's Bill Roohan, Mike Muldowney, and Kemp Broujos. Justin Glasgow of CBRE represented WPC in procuring financing from Burke & Herbert Bank.
This is WPC's second acquisition of existing multifamily properties, closing just five days after the company purchased of The Mark, a 227-unit apartment tower in Alexandria, VA. "This transaction further expands our growing portfolio of multifamily assets in the Washington, DC metropolitan area," said Quinn Rounsaville, WPC Senior Vice President of Acquisitions. "With their close proximity to transportation, employment opportunities, and one of the nation's great universities, these established residences provide convenient living options at an accessible cost." Rounsaville added that the COVID-19 pandemic has increased the appeal of living in lower-density communities.
WPC plans to substantially renovate each unit in the buildings, as well as upgrade common areas and selected building systems. The renovation program will include new flooring, lighting, appliances, and kitchen and bath updates.
The three College Park properties acquired by WPC are:
University Gardens, 4620-4626 Knox Road, built in 1946, 41 units
Columbia Manor, 4812 College Avenue, built in 1959, 32 units
Smith Manor, 4604 Knox Road, built in 1960, 8 units
These rental apartment communities are located in the established neighborhood of Old Town College Park within walking distance of the College Park Metro station on Metrorail's Green Line, MARC commuter rail service to downtown Washington, DC, and the future Purple Line light rail system. Residents can walk less than a half mile to the UMCP campus and University Research Park, home to a U.S. Food and Drug Administration food safety and nutrition laboratory.  Old Town College Park is directly adjacent to College Park's main retail corridor along Route 1.
UMCP is the largest four-year university in the greater Washington area, with some 41,000 students and 14,000 employees. Graduate and undergraduate UMCP students comprise more than half of the residents of WPC's three newly acquired apartment communities; others take advantage of the area's substantial employment, retail, cultural, and entertainment options.