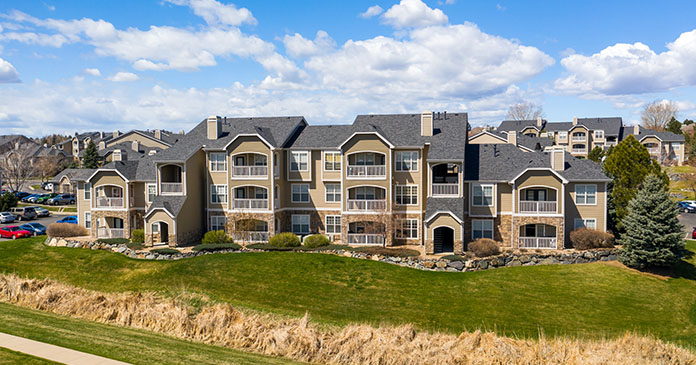 Intercontinental Real Estate Corporation (Intercontinental) in joint venture with MG Properties has acquired Stone Cliff Apartments, a 394-unit garden-style multifamily community in the Denver submarket of Aurora, CO for $143 million.
This is the second significant real estate acquisition in Denver for Intercontinental in the past five months, adding to their existing Denver footprint. Intercontinental, whose portfolio includes 30.7 million square feet of commercial and industrial space, and more than 13,000 multifamily units across the United States, acquired a 147,000-square-foot-warehouse and distribution facility in Denver late last year. The firm plans to aggressively target additional investments, according to Jessica Levin, Intercontinental's Senior Director, Acquisitions.
"Denver and its submarkets are experiencing significant job growth caused by an influx of major employers, a trend we see continuing over the long-term," Levin said. "The strength and diversity of the economy are key drivers of our continued investment appetite in the Denver MSA."
Built in 2000, Stone Cliff is located at 17886 E Greenwood Dr. on a low density 26-acre-site approximately 20 miles southeast of downtown Denver. The community's one, two, and three bedroom units are housed in 21 three-story walk-up apartment buildings on 26-acre site. Common area amenities include a fitness center, resort-style pool and spa, a dog park with pet wash area, outdoor grilling areas, business center and TV lounge.
Intercontinental will infuse fresh capital into the property, renovating unit interiors to maintain and enhance the community's competitive position in the marketplace.
"Stone Cliff's proximity to a sizeable base of employers across several industries, convenient access to retail and nearby recreational amenities were among the locational qualities that attracted us to the investment," said Allen Logue, Director, Acquisitions at Intercontinental. "We are diligently working to expand our multifamily portfolio in Denver. Stone Cliff's physical and locational qualities, combined with Aurora's strong demand and supply fundamentals, are an ideal fit with our investment objectives."
Despite population growth of 17 percent over the last decade there have only been five multifamily projects delivered within a three-mile radius of Stone Cliff, according to JLL's Denver Multi Housing Team, which marketed the property on behalf of the seller.  Members of the team included Jordan Robbins, Pamela Koster, Jacob Frishman, Christ Hart and Shea Conway.
"Stone Cliff's location, vintage and recent strong performance put it at the top of our target list.  Also, coming off a very active year and recently closing with both the seller and broker helped secure the transaction in the current competitive market." said Jeff Gleiberman, MG Properties' Managing Director.
This is the seventh time that Intercontinental and MG Properties have partnered on an acquisition and will bring the total of Intercontinental and MG Properties' portfolio together to 3,000 units.