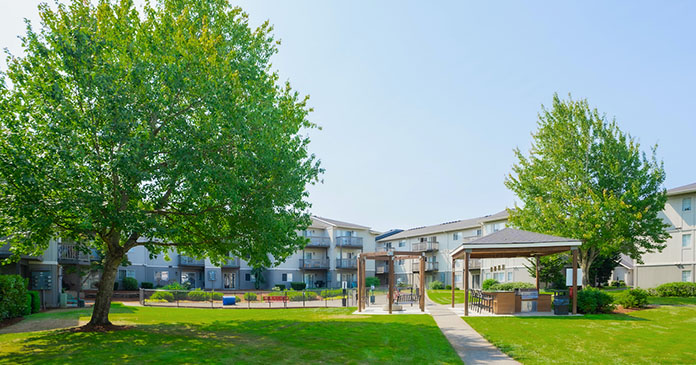 SB Real Estate Partners (SBREP) has acquired Bridge Creek Apartments, a 270-unit garden style multifamily community in the Portland, OR submarket of Vancouver, Washington for $75.0 million. The property will be rebranded as Portola Bridge Creek.
"We've had a successful, albeit limited, transaction history for our investors in the Pacific Northwest over the past few years," said SBREP Founder & Managing Principal, Srijin Bandyopadhyay.  "Going forward, as SBREP continues to build out its portfolio across the Phoenix, Vegas and Inland Empire markets, we're excited to add the Portland MSA—inclusive of Vancouver, Wash.—as one of our strategic, target markets. Portola Bridge Creek represents SBREP's commitment to building out a significant footprint in the Portland apartment market."
Built in multiple phases from 1984 to 1989, the property is located at 9211 NE 15th Ave., in the Hazel Dell North area of Vancouver, WA, with access to Salmon Creek schools. The property sits just nine miles north of Downtown Portland and only six miles north of the Vancouver Waterfront redevelopment. Tenants enjoy access to various employment corridors extending southeast into the Camas/ Fisher's Landing campus, directly south through Downtown Vancouver—and further south into Downtown Portland.
Despite the region's growing population, there have only been six new apartment deliveries of 50 units or more within a three-mile radius of Bridge Creek since 2015.
Rebranding the property as Portola Bridge Creek, SBREP is planning a $4 million capital improvement program to enhance the property exterior / curb appeal, common area amenities and unit interiors. The property's unit mix consists of one-, two- and three-bedroom floor plans ranging from 650 square feet to 1,150 square feet.  Property amenities include a community swimming pool with poolside BBQ stations, playground, dog parks, a fully automated Amazon package locker system and a 24-hour modern fitness center.