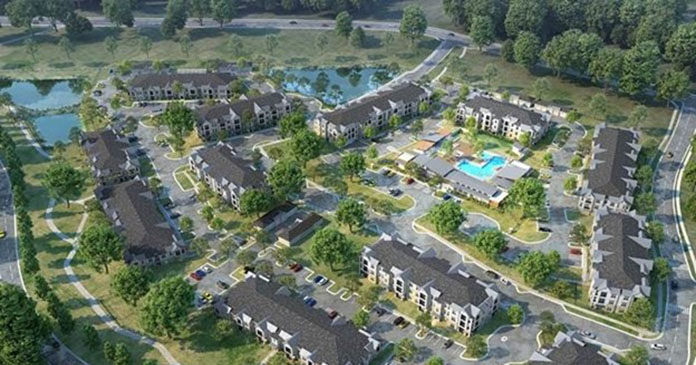 Trez Capital announces the closing of an equity investment in partnership with Thompson Realty Capital, LLC for the development of a garden-style multifamily project in San Marcos to be called La Cima. With a total development cost in excess of USD $50 million, this project marks a key addition to the company's development fund, the Trez Capital Private Real Estate Fund Trust (TPREF). This announcement comes on the heels of another joint venture partnership with Thompson Realty Capital for the recent closing of a USD $33.3 million equity investment for the development of a 504-unit garden-style multi-family project in Austin.
The La Cima project is located in Hays County along the I-35 corridor and is approximately 30 minutes from Austin and San Antonio. Spanning 21 acres, the project will include 304 units with attached and detached garages in two- and three-story buildings. Residents will experience unmatched Texas Hill Country apartment living with unsurpassed views and large mature oak trees throughout the property. La Cima will feature a class A leasing office, amenity center and resort-style pool.
"We have continued to see great success and higher-than-expected investor returns from our various joint-venture partnerships with Thompson Realty Capital. We look forward to delivering another successful project as a part of TPREF, this time in San Marcos, as we continue to provide equity investment solutions for our partners and investors," said Trez Capital's Global Head of Origination, John D. Hutchinson. "We have targeted various investments in the Texas Hill Country due to the area's strong migration growth over the last couple of years. There has been tremendous growth and opportunity in Hays County – the area's population has grown approximately 54 percent in the last ten years and continues to grow at a rapid rate."
La Cima is an example of Trez Capital's joint-venture partnership program which provides experienced developers with equity financing for value-add and ground-up developments in key markets with strong population, employment and GDP growth. In these areas, Trez Capital targets investments in the multifamily, single-family for rent, industrial and self-storage asset classes. Trez Capital, along with its development partners, intends to provide capital appreciation for investors through the development process and sustainable income from holding properties over the long-term.
An affiliate of Thompson Realty Capital, LLC will serve as property manager upon project completion. Trez Capital and Thompson Realty Capital have delivered or have under construction seven multi-family projects totaling 1,958 units throughout Texas, with project returns exceeding projections. The La Cima project marks the eighth joint-venture project with Trez Capital and Thompson Realty Capital.
The project is expected to complete in December 2023.