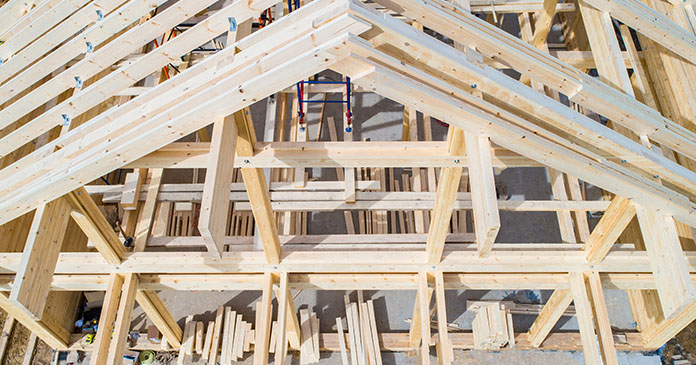 Despite production bottlenecks and rising construction costs, total housing starts led by a strong multifamily reading posted a solid gain in February as demand stays strong and existing inventory remains at low levels.
Overall housing starts increased 6.8 percent to a seasonally adjusted annual rate of 1.77 million units, according to a report from the U.S. Department of Housing and Urban Development and the U.S. Census Bureau. This is 22.3 percent above the rate posted a year earlier.
The February reading of 1.77 million starts is the number of housing units builders would begin if development kept this pace for the next 12 months. Within this overall number, single-family starts increased 5.7 percent to a 1.22 million seasonally adjusted annual rate. The multifamily sector, which includes apartment buildings and condos, increased 9.3 percent to an annualized 554,000 pace.
"Builders continue to start homes as the demand for new construction remains solid in a market lacking inventory of previously owned homes," said Jerry Konter, chairman of the National Association of Home Builders (NAHB) and a home builder and developer from Savannah, Ga. "However, construction costs are rising too quickly, which threatens housing affordability conditions in 2022 as interest rates rise."
"The February pace for apartment construction was the best since January 2020 and we expect the multifamily sector to continue to show strength as the economy reopens," said NAHB Chief Economist Robert Dietz. "On the single-family front, the count of homes permitted but not started construction reached a four-month high in February, rising to 152,000. This is an indication of the ongoing supply-chain delays and cost issues that are limiting the pace of home building in many markets."
On a regional basis compared to the previous month, combined single-family and multifamily starts are 28.7 percent higher in the Northeast, 15.3 percent higher in the Midwest, 11.4 percent higher in the South and 11.4 percent lower in the West.
Overall permits decreased 1.9 percent to a 1.86 million unit annualized rate in February. Single-family permits remained essentially flat, falling 0.5 percent to a 1.21 million unit rate. Multifamily permits decreased 4.4 percent to an annualized 652,000 pace.
Looking at regional permit data compared to the previous month, permits are 22.7 percent higher in the Northeast, 8.4 percent lower in the Midwest, 5.5 percent lower in the South and 2.1 percent higher in the West.
There are now 799,000 single-family homes under construction, a 28.3 percent year-over-year gain.