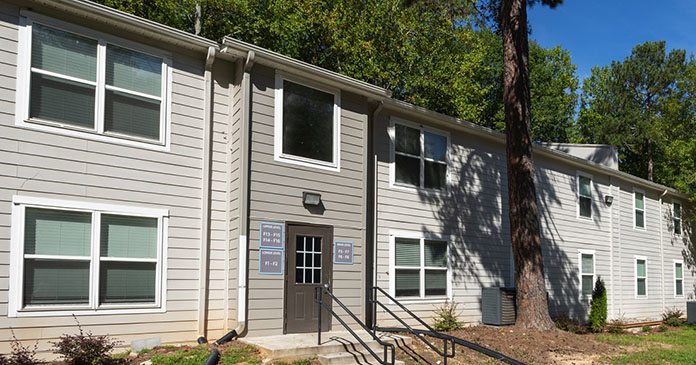 Middleburg Communities (Middleburg), a Vienna, Virginia-based real estate investment, development, construction, and management firm announces the sale of Vesta Camp Creek, a 220-unit apartment community at 5100 Welcome All Road in Fulton County in the Atlanta MSA. Middleburg acquired the property in May 2019 and invested more than $10 million in the redevelopment of the previously vacant and severely deteriorated 1975-vintage asset into a welcoming, fully-amenitized townhome apartment community, achieving stabilization with 98 percent of its units leased by November 1, 2020. Terms of the sale transaction were not disclosed.
"When Middleburg acquired Vesta Camp Creek, we quickly engaged our entire team to transform the property, which in some areas had been gutted to the studs and abandoned, into much-needed attainable apartments for working families in Fulton County," said Middleburg Communities Vice President of Asset Management, Michael Bediones. "We hit every milestone and we are extremely proud of the team's execution of our business plan, despite delivering during the pandemic."
As part of the redevelopment, all of the 220 units received new interiors and exteriors as well as new electrical, plumbing, and HVAC systems. The clubhouse and fitness center were completely rebuilt and new laundry facilities and landscaping were added. Finishes for the one, two and three-bedroom apartments include new drywall, LVT flooring in the common spaces, new cabinetry, stone countertops, modern lighting fixtures, new energy-efficient appliances and water fixtures. New laundry facilities were added to the buildings throughout the community. The exteriors of the buildings benefited from having all siding either repaired or replaced and painted and new gutters and downspouts were installed throughout. The majority of windows and doors throughout the property are now brand new.
Middleburg extends its appreciation to Travis Presnell, Mike Kemether, Wesley Lacefield and Wesley Kenney of Cushman & Wakefield for their representation in the sale of the property.