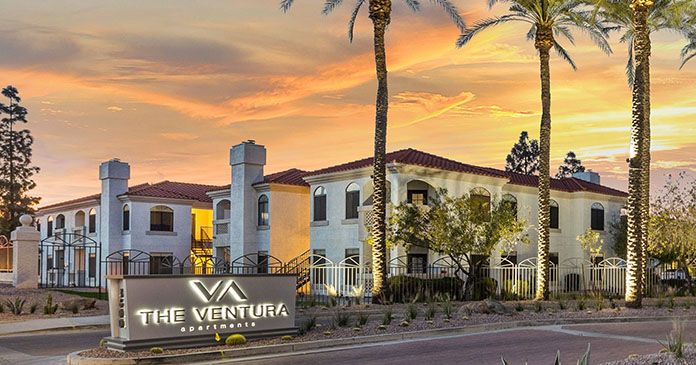 Thayer Manca Residential (TMR) has sold The Ventura Apartments, a 272-unit multifamily property in Chandler, Arizona. TMR purchased the property in 2017 for $47.6 MM.
TMR has a number of additional assets throughout Arizona including Circ Tucson (formerly Palm Canyon), Envii (formerly Entrada) and recently acquired Desert Shadows in Tucson. TMR sold Avia 266 in Tempe in 2019. 
"This sale marks a significant moment for our company. Not only does it showcase our team's ability to execute our value-add strategy and business model, but it highlights the extent of our commitment to protect and grow our investors' capital," says Joe Manca, Principal. 
The Ventura is located in the Price Road Corridor, one of the most dynamic technology employment corridors in the southwestern United States. The property's high visibility location along Ray Road is one of the best micro-locations in Chandler, Ariz. 
TMR invested $4.1 MM to fully reimagine the resident experience at The Ventura. These improvements included high-end unit renovations, clubhouse and fitness center enhancements, the addition of communal outdoor amenity spaces, the installation of electric charging stations, and a full brand refresh.
"We feel fortunate to have owned The Ventura for just under 5 years, and to have had the opportunity to lean into the repositioning and revitalization of this premiere asset. We are confident that it will continue to be a leader in the Chandler multifamily submarket for years to come," says Manca. 
The Ventura is located at 3600 W Ray Rd, Chandler, Ariz 85226. 
The brokers for CBRE were Sean Cunningham, Asher Gunter and Matt Pesch.