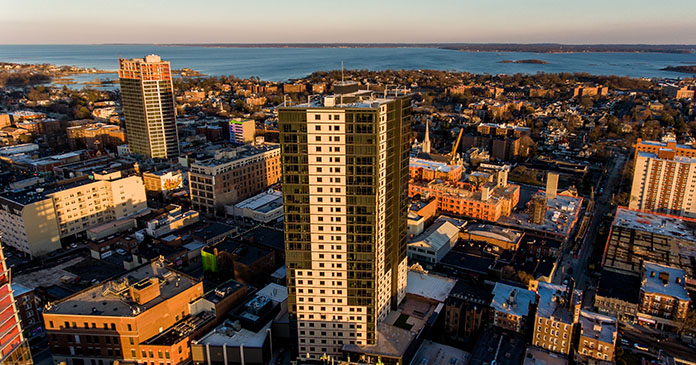 JLL Capital Markets announced that it has arranged $105 million in refinancing for RXR Realty's 360 Huguenot, a 280-unit high-rise apartment building with ground-floor retail in downtown New Rochelle.
JLL worked on behalf of RXR Realty, to arrange the refinancing through Rialto Capital Management.
Completed in July 2019, 360 Huguenot is a 28-story rental residential tower consisting of 252 market-rate units, as well as 28 affordable units at up to 80 percent of the area's median income. The property features studio, one-bedroom and two-bedroom apartments in a variety of layouts, with premium features for higher-floor units. The residences were developed to "condominium standards," with stainless steel appliances, hardwood floors, smart-door locks and expansive windows. Community amenities include a 24/7 concierge, a state-of-the-art fitness center with a yoga studio, a private indoor/outdoor lounge for residents, a valet parking garage and regular events for residents.
The property also features 294 parking spaces and 13,538 square feet of Class A retail space in five ground-floor suites fronting New Rochelle's busy downtown district. The building allows convenient access to the nearby Metro North train station with an eight-minute walk for a half-hour train ride to Manhattan's Grand Central Terminal.
The property is the first high-rise residential tower delivered in New Rochelle since 2007. Since New Rochelle designated RXR as "Master Developer" in July 2014, the firm has worked together with the city to construct three separately phased residential projects. In addition to 360 Huguenot, RXR has recently completed One Clinton Park, a 28-story, mixed-use tower, including 352 market-rate apartments and more than 13,000 square feet of retail space in the city's downtown center. In 2024, RXR Realty expects to deliver the adjacent Two Clinton Park, another 28-story mixed-use tower in New Rochelle, featuring 390 market-rate apartments.
The JLL Capital Markets team representing the borrower was led by Executive Managing Director Mike Tepedino, Senior Managing Directors Michael Gigliotti and Kelly Gaines, Senior Director Jillian Mariutti, Associate Phil Cadorette and Analyst Joy Dracos.
"RXR has an unparalleled knowledge of the Westchester market, as evidenced by 360 Huguenot's fast lease-up and market-leading rental rates," Gigliotti said. "360 Huguenot has proven to be an exceptionally attractive investment opportunity as it has capitalized on years of pent-up demand for affordable and market-rate housing."
"360 Huguenot is an example a high-quality, best-in-class property with spectacular views that draws in prospective residents from all of Westchester County," Gaines added. "We are pleased to have facilitated this refinancing for RXR Realty – a market-leading deal with an efficient, well-executed closing process by all parties."
JLL Capital Markets is a full-service global provider of capital solutions for real estate investors and occupiers. The firm's in-depth local market and global investor knowledge delivers the best-in-class solutions for clients—whether investment sales and advisory, debt advisory, equity advisory or a recapitalization. The firm has more than 3,000 Capital Markets specialists worldwide with offices in nearly 50 countries.