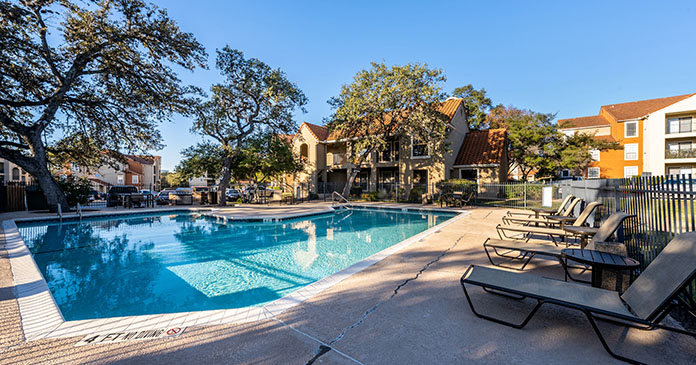 Multifamily investment firm DB Capital Management (DB Capital) has partnered with Sabal Financial Group to acquire Villas of Henderson Pass, a 228-unit multifamily community in San Antonio, Texas. The property, which was 98 percent occupied at closing, is DB Capital's third acquisition in San Antonio.
Located at 16465 Henderson Pass, Villas of Henderson Pass is centrally located close to several of the largest employers in San Antonio, including San Antonio International Airport (100,000 jobs), South Texas Medical Center (30,000 jobs), USAA (16,000 jobs), Valero (10,000 jobs) and Oracle (500 jobs). Built in 1986, the property offers a mix of one- and two-bedroom floor plans spread across 20 two- and three-story buildings.
"Our aggressive approach in acquiring assets in the San Antonio MSA is fueled by our strong belief in the market's excellent multifamily fundamentals, which continue to attract major employers from multiple industries, creating strong job and population growth," said DB Capital CEO Brennen Degner. "Our objective is to search out and acquire additional assets that will fortify our position in the market."
DB Capital entered the San Antonio MSA last November with its acquisition of Salado Springs, a 352-unit multifamily community in the north central area of the city. With its purchase of Villas at Henderson, the Los Angeles-based firm has spent more than $160 million in Alamo City investments in seven months.
DB Capital plans to rebrand the asset as Summit Henderson Pass and immediately initiate a $4.5 million renovation program that will include upgrading all units with new flooring, countertops, smart-home tech packages, in-unit washer/dryers and new light fixtures. They will also modernize the exterior and common areas, with the goal of offering tenants a more desirable property, superior finishes and a better location at a discount to new construction in the area.
"The property offered an opportunity to acquire a vintage garden-style asset in an exceptional location at below replacement cost," Degner said. "Our capital plan will enhance the property's desirability and make it well-positioned to compete with comparable value-add projects in the submarket."