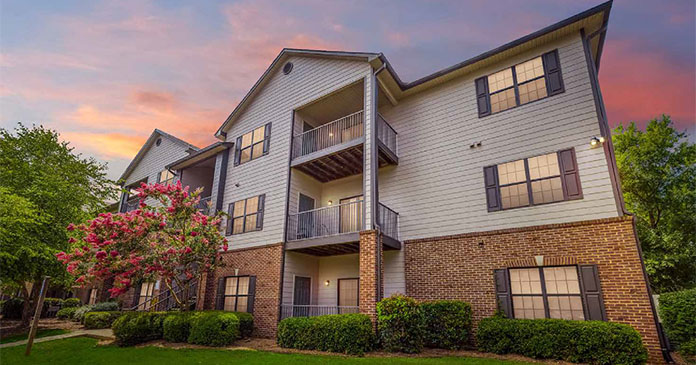 JLL Capital Markets announced that it secured $262 million in debt and $40 million in equity for the refinancing of a six-property, 1,494-unit, garden-style multihousing portfolio scattered across Maryland, Virginia and Alabama.
JLL represented the borrower, Carter Multifamily, to secure the seven-year, floating-rate loans through Freddie Mac Multifamily. The loans will be serviced by JLL Real Estate Capital, LLC, a Freddie Mac Optigo lender. JLL also worked to secure the equity through an institutional investor.
The multi-housing portfolio consists of:
Park at Kingsview Village, 13414 Daventry Way, Germantown, Maryland
Stonecreek Club, 12840 Locbury Circle, Germantown, Maryland
Hunt Club, 404 Christopher Ave., Gaithersburg, Maryland
Springwoods at Lake Ridge, 12395 Midsummer Ln., Woodbridge, Virginia
Windsor Park. 3937 Penshurst Ln., Woodbridge, Virginia
Oaks of St. Clair, 5050 Oaks of St. Clair Circle, Moody, Alabama
Five of the properties are located within the Washington, D.C. suburbs, providing tenants access to the employment opportunities in and surrounding the District. The 326-unit Park at Kingsview Village, the 240-unit Stonecreek Club and the 336-unit Hunt Club are set in Germantown and Gaithersburg, Maryland, respectively, which are northwestern suburbs along Interstate 270. The 220-unit Windsor Park and the 180-unit Springwoods at Lake Ridge are both within Woodbridge, Virginia, a southern suburb approximately 23 miles from downtown Washington, D.C. Situated in the Birmingham, Alabama MSA, the 192-unit Oaks of St. Clair is in Moody, Alabama, approximately 20 miles east of downtown Birmingham.
The JLL Capital Markets Central Florida Debt & Equity Advisory team represented the borrower and is led by Senior Managing Directors Melissa Marcolini Quinn and Lee Weaver.
"Despite turbulent debt markets, we were able to facilitate a refinance of the portfolio with favorable senior financing from Freddie Mac, who was attracted to the deal due to the portfolio's contribution to its mission and the borrower's strong track record," said Quinn.
"The favorable senior loan terms and sponsorship attracted a lot of interest from equity investors, and we are happy to close this deal for the Carter team," Weaver said.
JLL delivers multihousing investors a full range of solutions through one diverse, integrated platform. The division employs approximately 400 professionals who provide comprehensive investment sales and disposition services with access to thousands of domestic and foreign investors. JLL is also one of the nation's largest affordable and conventional multi-housing and seniors housing lenders with comprehensive loan underwriting, asset management and loan servicing capabilities. Agency/GSE lending and loan servicing are performed by JLL Real Estate Capital, LLC, a wholly owned indirect subsidiary of Jones Lang LaSalle Incorporated. Loans made or arranged in California are pursuant to a California Financing Law license.
JLL's Capital Markets group is a full-service global provider of capital solutions for real estate investors and occupiers. The firm's in-depth local market and global investor knowledge delivers the best-in-class solutions for clients—whether investment and sales advisory, debt advisory, equity advisory or a recapitalization. The firm has more than 3,000 Capital Markets specialists worldwide with offices in nearly 50 countries.