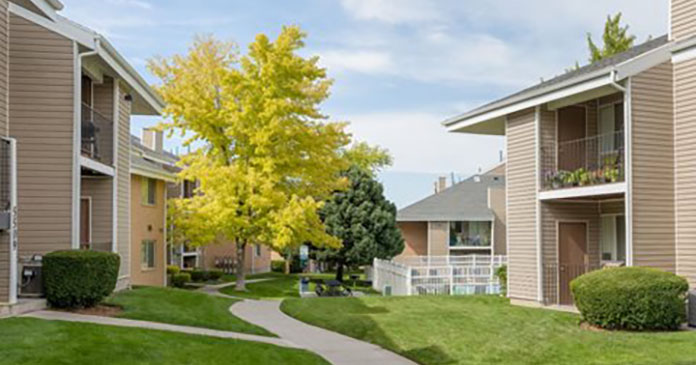 DB Capital Management (DB Capital) and equity partner Thrive FP has acquired Autumn Glen, a 100-unit apartment community in the Salt Lake City submarket of Taylorsville, Utah. It is DB Capital's fifth purchase in the Salt Lake City MSA over the past 24 months.
This is DB Capital's sixth acquisition with Austin-based Thrive FP. DB Capital and Thrive have grown a programmatic relationship focused primarily on the acquisition of high-quality assets in the Salt Lake City metro area.
"We're thrilled to be partners with DB Capital on another deal in a rapidly growing market," said Adrian Lufschanowski, President of Thrive FP. "Rental growth in Salt Lake City is outpacing inflation and is projected to continue. We have seen strong performance so far within our portfolio in Salt Lake City and are excited about the addition of Autumn Glen."
Located just 20 minutes from Downtown Salt Lake City at 5490 S. 3910 W., Autumn Glen is a 1980s-vintage asset featuring an almost 50/50 mix of one- and two-bedroom units housed in five three-story residential buildings. The apartment community offers quick access to numerous popular restaurants and retail locations as well as the area's major employers, including nationally recognized companies such as Amazon, Adobe, Qualtrics, Overstock, and Zagg & Savage. It is also within 30 minutes of five of the most popular ski resorts in Utah.
"The Salt Lake City multifamily market is one of the most, if not the most, fundamentally sound in the United States with strong population and job growth," said DB Capital Co-Founder Brennen Degner. "The relationships we have built over the years have enabled us to grow our platform and position ourselves for long-term success in Salt Lake City. We have a great reputation as a closer in this market, which has assisted us in our efforts to unearth quality opportunities like Autumn Glen."
DB Capital plans to upgrade the property with exterior and common area improvements that drive value for existing and future tenants. DB Capital also will renovate 100 percent of the apartment interiors with quartz countertops, new appliances including washer/dryer, new cabinet fronts and pulls, updated plumbing and lighting fixtures, vinyl plank flooring, and new carpet in the bedrooms.
"Autumn Glen represented an opportunity to acquire a well-maintained property with unrealized upside potential in a market with strong apartment fundamentals including an increasingly unaffordable single family home market," said DB Capital Regional Vice President Darren Hulick. "When our renovation plan is complete, Autumn Glen will offer renters a high-quality living experience at a significant discount to new construction."
Over the past year, single-family home values in the Salt Lake County market increased nearly 25 percent to a median price of $530,267, making homes less affordable for would-be home buyers and, in turn, making renting a more affordable option. Due to Taylorsville's high demand, constructible land is limited and only two properties within a three-mile radius from Autumn Glen are planned.
Danny Shin and Brock Zylstra from IPA's Salt Lake City office represented the seller in the transaction and Brian Eisendrath and Cameron Chalfant of IPA's Capital Markets Team secured the debt financing.