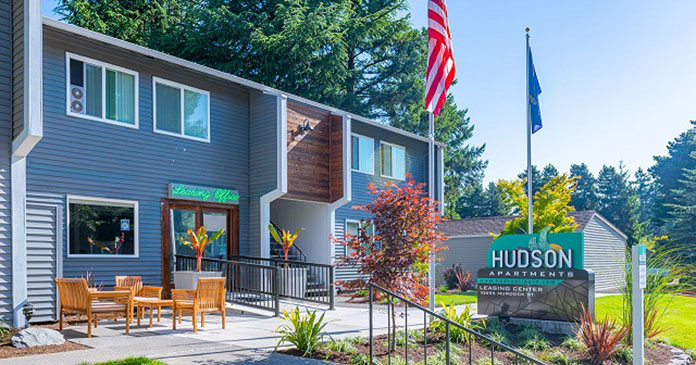 Trion Properties, a multifamily investment sponsor and private equity real estate firm based in West Hollywood, California and Miami, Florida, has recapitalized a multifamily portfolio in the greater metropolitan area of Portland, Oregon, in partnership with Tokyu Land US Corporation (TLUS). Assembled between 2018 and 2019, the portfolio consists of two multifamily communities, comprising a total of 373 units. The equity partnership formed between TLUS, and Trion has executed a total of $99.2 million in recapitalization across the portfolio.
The properties include Hudson Tigard Apartments (consisting of Hudson North and Hudson South), a 227-unit community located in Tigard, Oregon, and Aster Parc Apartments and Townhomes, a 146-unit community located in Aloha neighborhood of Beaverton, Oregon. Trion implemented strategic upgrades, executed rebranding, and utilized its vertically integrated property management platform to improve operations in order to increase value since purchasing the assets in 2018 and 2019, according to Max Sharkansky, Managing Partner at Trion Properties.
"Both of these communities were initially acquired in two phases, with our team recognizing opportunities to improve efficiencies through combining and rebranding the assets," explains Sharkansky. "We implemented our proven value-add renovation program and drew upon local market knowledge and connections to enhance the appeal of the properties, while capturing organic market growth and driving significant returns for our investors."
Sharkansky adds that Trion began acquiring value-add multifamily properties in the Portland area in 2016, identifying an opportunity to deliver high-quality renovated product that would appeal in part to new area residents drawn to the region's growing job market.
"Since we entered the Portland market six years ago, the 'Silicon Forest' west of Portland has continued to see rapid growth and is now home to more than 300 high-tech businesses," continues Sharkansky. "In addition, the Portland area has further established itself as the sports apparel capital of the nation, with brands such as Nike and Columbia Sportswear undergoing vast expansion in recent years."
More details on the recapitalizations include:
Aster Parc Apartments and Townhomes in Aloha, Beaverton, Oregon
Aster Parc Apartments and Townhomes, which was acquired by Trion Properties in two phases in 2018 and 2019 for a total of $20.4 million, was recently recapitalized for approximately $40 million.
This recapitalization involves a new $24 million loan secured through Pacific Premier Bank, and an equity partnership formed between Trion and Tokyu Land US Corporation, notes Sharkansky.
"With this new partnership, Trion will focus on refined upgrades and market-leading finishes that will further bolster rent growth," explains Sharkansky. "Our team will also continue to oversee on-site property management and operations through our vertically integrated property management program, drawing upon the expertise in this specific submarket that we've cultivated over the past several years."
Aster Parc Apartments and Townhomes, located at 18745 SW Farmington Road in Beaverton, Oregon, is situated on over five acres of land, offering residents a park-like setting. Residents also benefit from immediate access to Highway 8, a regional arterial that connects the Aloha neighborhood to the city of Beaverton and the greater metro area.
Hudson North and Hudson South Apartments in Tigard, Oregon
The Hudson North Apartments and Hudson South Apartments were acquired separately by Trion in 2018 for $38.1 million, respectively. The properties were recently recapitalized for a total of $59.2 million, with a new loan amount of $39.414 million, secured through Freddie Mac and serviced by Walker and Dunlap.
"Since acquiring the properties in 2018, our team has implemented a total of approximately $6 million in capital improvements in efforts to provide high-quality product to the diverse and well-educated submarket of Tigard, significantly increasing the value of the assets. Our forward-looking improvements strategy will focus on high-end interior upgrades and modern finishes, with a complete oversight of on-site property management and operations."
The Hudson Tigard Apartments are conveniently situated near freeways, shopping, restaurants, and schools, providing residents quick access to downtown Portland and Hillsboro.
Hudson North Apartments are located at 10890 SW Canterbury Lane in Tigard, Oregon, and Hudson South Apartments are located at 10695 SW Murdock Street in Tigard, Oregon.