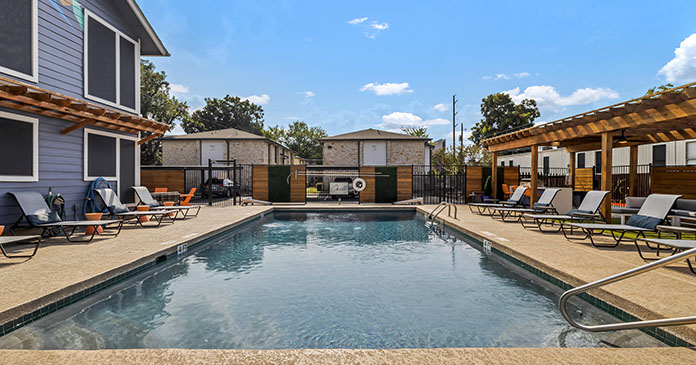 DB Capital in joint venture with a CrowdStreet, has recapitalized Summit at Hyde Park, a 192-unit apartment community in Austin, Texas.
The acquisition represents a recapitalization of the 1980's vintage garden style community, originally acquired by DB Capital in October 2019 in joint venture with a large Beverly Hills based family office, which exits the investment after meeting its business plan.
Summit at Hyde Park features a mix of one- and two- bedroom apartment homes averaging 600 square feet. The property is located at 522 N. Lamar Blvd., four miles north of Downtown Austin, two-and-a-half miles from the University of Texas, and walking distance to the restaurants and retail shops at The Triangle, a new 22-acre mixed used development.
Since acquiring the property, the firm has invested more than $1 million to renovate 63 apartment homes, install a dedicated fiber infrastructure, new exterior paint and signage and a complete upgrade of the pool and amenity space.
The recapitalization allows DB Capital to expand the renovation to include 100 percent of the unit interiors, which includes adding stone countertops, updated plumbing and lighting fixtures, new cabinet fronts, vinyl plank flooring and carpets, smart locks and Nest thermometers. The installation of in-unit washer and dryers in each apartment home, will allow DB Capital to convert an existing laundry facility into a state-of-the art fitness center. Other improvements will include the replacement of the roofs on all 21 residential buildings and leasing office, updated landscaping and a new dog park. The renovations will allow the property to compete with newer vintage product in the submarket at an affordable price point.
"Since entering the Austin market in 2018, we have grown our portfolio to eight properties totaling approximately 1,000 units," said DB Capital CEO Brennen Degner. "This renovation is an example of how we are able to take advantage of economies of scale, and strategically deploy capital to reduce costs and drive prospective renter volume to optimize operating income."