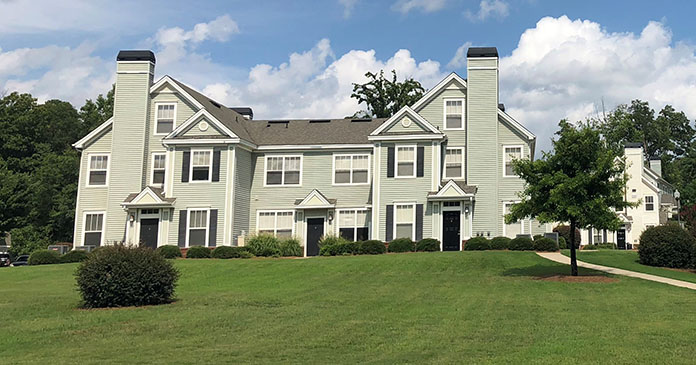 Investors Management Group, Inc. (IMG) continued its strategic investments of multifamily properties with the acquisition of Millennium Apartments in Greenville, South Carolina for $64.4 million ($211,000 per unit). Over the past year, IMG has sponsored the acquisition of over 1,600 total units totaling $300 million in transactions nationally.
Built in 2008, Millennium offers an ideal mix of one, two-, and three-bedroom floor plans, all having first-floor entries. IMG plans to invest over $2.5 million in capital improvements at the property to meet the accelerated demand for upscale amenities.
Millennium Apartments marks IMG's third multifamily project in South Carolina. Most recently IMG acquired The Whitley Apartments, a 250-unit asset in the Greenville suburb of Central in June 2022.
"We've been focused on the growth along the I-85 'Boom Belt' for years. There are so many factors- from affordability to quality of life features- that keep fueling growth Upstate," said Neil Schimmel, IMG's Founder-CEO. "Between the attractive price and upside potential of the property and the sustainable growth the market is seeing, Millennium was a perfect opportunity to expand our portfolio in Greenville."
At a purchase price at $211,000 per unit, the asset represents "excellent price per pound relative to comparable sales, especially considering the property's track record of high occupancy and strong operations," Schimmel added.
IMG received strong investor response to its offering of Millennium Apartments, raising $35 million from over 200 investor clients across 20 U.S. states. Twelve investors completed 1031 exchanges by acquiring Tenant in Common positions in the property. Karlin Conklin, IMG co-president and COO, added "A lot of apartment owners want freedom from daily management hassles. They're looking to sell, and they're looking outside of Wall Street for their retirement planning. They're drawn to our 'I-P-A' investment formula. It's disciplined, and it's predictable."
In the last year, the Woodland Hills-based firm has more than doubled its transaction volume, growing their national portfolio to over 5,000 total units ($1B in value) across 10 metros.
Andrea Howard of Northmarq served as broker in the transaction. Financing was secured through Northmarq. The non-recourse Freddie Mac loan carries a 7-year term and a 4 Year Interest Only period, as well as a fixed interest rate.