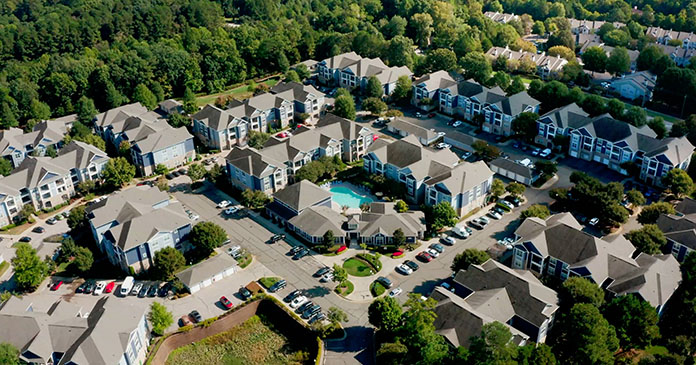 The Bainbridge Companies (Bainbridge), a fully integrated family of real estate companies engaged in the development, construction/renovation, management, and acquisition of residential and commercial real estate as well as a leading owner, developer, and manager of luxury multifamily apartment communities, announced the acquisition of its newest residential property, AXIS Crossroads (formerly Aventura Crossroads), in partnership with Virtus Real Estate Capital.
Located at 1010 Legacy Village Dr. in Cary, North Carolina, AXIS Crossroads is a luxury multifamily apartment community offering 344 one-, two-, and three-bedroom homes ranging from 709 to 1,485 square feet. The community features a recently upgraded clubhouse and fitness center, in addition to upgrades to approximately half of the units. Bainbridge plans to make minor renovations to the pool courtyard and interior apartments and will introduce iApartment featuring various smart tech amenities.
"AXIS Crossroads is a perfect example of Bainbridge executing its business plan.  We take a hybrid approach to submarkets and whenever we find locations with huge barriers to build, we then see huge opportunities to buy," said Mark Stewart, Bainbridge's chief investment officer. "We're also excited to have this asset be our first venture with Virtus."
"This acquisition exemplifies Virtus' investment strategy of finding well-located value-add opportunities in high-growth markets," said Christopher Kott, managing director at Virtus Real Estate Capital. "We are excited to partner with Bainbridge to provide high-quality housing at an attainable price point in the Research Triangle submarket."
AXIS Crossroads is situated in the Research Triangle submarket, one of the top-performing and most sought-after markets in the Southeast. Its location offers easy access to retail, restaurants, and entertainment as well as a convenient commute to both downtown Cary and Raleigh.