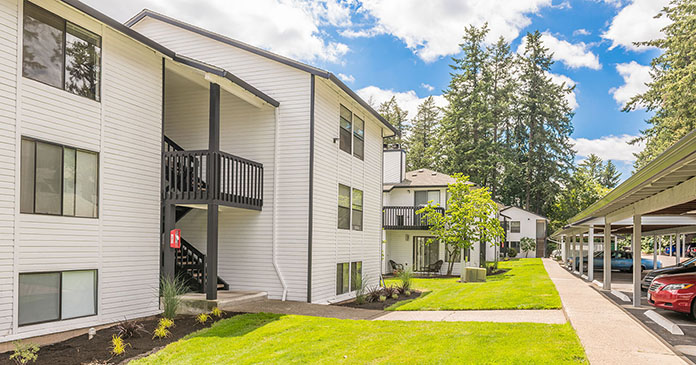 Trion Properties, a multifamily investment sponsor and private equity real estate firm based in West Hollywood, California and Miami, Florida, has sold The Hallwood Apartments, a multifamily community totaling 76 units in the Beaverton submarket of Portland, Oregon, for $21.5 million.
Trion had originally acquired the property in 2017 from a private seller in an off-market transaction for $12.5 million. The disposition demonstrates the firm's ability to add significant value to real estate assets as well as the strength of the Greater Portland market, according to Max Sharkansky, Managing Partner of Trion Properties.
"Our firm has an extensive track record of purchasing apartment assets and implementing changes that make sense for each property in its respective market," says Sharkansky. "This strategy dramatically improves the properties' appeal to tenants and investors and ultimately drives valuation. We have seen this approach succeed time and again for us in the Portland area, due to the population's attraction to the metro's suburbs and the region's potential to generate positive cash flow for multifamily owners."
Since Trion made its debut in the Greater Portland market in 2015, the firm has witnessed notable resident migration toward lower-density suburbs like Beaverton, which offer a high quality of life as well as continued development and job growth. The firm has owned and managed 22 properties in the metro, including nine in Beaverton's Washington County, enabling the company to deepen its expertise as a major player in the region, notes Farhan Mahmood, Partner and Director of Acquisitions at Trion Properties.
"As multifamily absorption rates rise in the Portland CBD, we are observing increasing leasing activity in nearby submarkets including Beaverton, which is seeing apartment vacancy rates below 2 percent in some areas," says Mahmood. "These fundamentals, along with Portland's Urban Growth Boundary, which limits future developments to high-density construction, support our continued investment in this region for its growth potential and propensity to attract residents and companies alike. In fact, Beaverton is known as 'The Silicon Forest' due to its cluster of prominent technology companies including Intel, Genentech, and Apple."
The increasing concentration of tech companies in the area has helped drive year-over-year multifamily rental growth in Portland of 13.4 percent in Q2, and CoStar is predicting Beaverton apartment rents to grow by 25.3 percent by 2026, far surpassing the historical average for this submarket, Mahmood adds.
Constructed in 1986, The Hallwood Apartments is a garden-style community comprising spacious one- and two-bedroom units. The property, which features washers and dryers, a swimming pool, ample covered parking, and an on-site leasing office, aligns with Trion's proven strategy of investing along the 217 freeway, providing convenient access to the metro's employers as well as numerous shopping and dining options.
During ownership, Trion capitalized on the opportunity to create value by implementing a series of property-wide renovations. Exterior improvements include updated signage, leasing office, new paint, roof repairs, landscaping, and the addition of a fitness center. Interior renovations feature modern finishes comprising quartz countertops, stainless steel appliances, and vinyl plank flooring, with new cabinets, vanities, lighting, and fixtures.
"The capital improvements we completed at The Hallwood Apartments substantially increased buyer interest in the property, enabling us to sell it for a markedly higher amount than our purchase price five years earlier," says Sharkansky.
Liz Tilbury at Tilbury Ferguson Investment Real Estate, Inc. represented both Trion and the private buyer in the sales transaction.
The Hallwood Apartments are located at 7535 SW Hall Boulevard in Beaverton, Oregon.