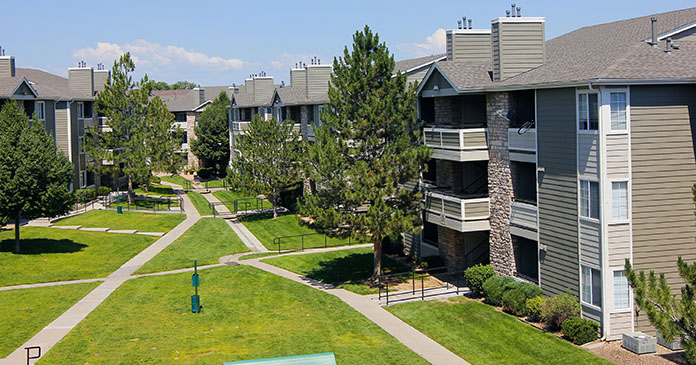 Avanath Capital Management, LLC, a private real estate investment manager, announces it has acquired Ascent, a 168-unit multifamily apartment community for $58.1 million. The property is located in the Denver suburb of Cherry Creek, an affluent residential district in southeast of the city, and is Avanath's fifth acquisition in Colorado.
"Ascent presents the opportunity to further increase Avanath's footprint in Denver, a booming market with consistently strong demand for housing," says Daryl Carter, Founder, Chairman, and CEO of Avanath. "With thoughtful investment and improved management of the property, Ascent provides essential workforce housing next to its sister property, Fox Crossing, in a highly expensive market."
Ascent's current rents sit far below those in its immediate submarket, primarily due to a lack of prior investment in the complex. Avanath intends to renovate 167 of the apartments, through which the property's average rents will increase, yet remain significantly below comparable market rate rents.
"As a leader in providing lifestyles within reach for residents at all income levels, Avanath's strategy is to identify opportunities in the market where we can create value, provide high quality workforce housing, and make an impact on the community," continues Carter. "Through our plans to renovate units and improve the efficiency of running Ascent in conjunction with Fox Crossing, Ascent will outperform its competitors and still maintain an attainable rent."
Fox Crossing is a 220-unit affordable housing property acquired by Avanath in December of 2019. The efficiencies created by combining staff and operations will benefit both properties. Additionally, prospective Fox Crossing residents that may be over income-qualified, will be referred to the market-rate Ascent, Carter adds.
John R. Williams, President and CIO of Avanath, says: "Though Ascent is considered market rate, the profile of the asset clearly fits into the Avanath's strategy of growing both affordable and workforce housing in desirable locations. Cherry Creek boasts some of the best performing public schools in the state of Colorado as well as a vibrant shopping scene, including department stores, high-end fashion boutiques, and eclectic eateries."
Ascent's per-unit purchase price is very attractive compared to the cost of new development and lower than comparable recent market-rate transactions. Further, local restrictions on new developments within Denver city limits are set to significantly reduce overall new development making the acquisition an excellent value within the current environment, notes Williams.
Ascent, built in 1994, consists of eight, three-story buildings including a mix of one-, two-, and three-bedroom units. Property amenities include a clubhouse, fitness center, community pool, business center, BBQ grill and picnic area, Amazon lockers, a playground, and ample parking. Unit amenities include a microwave, air conditioning, washer and dryer, walk-in closets, gas fireplaces, vinyl wood plank flooring in select units, and vaulted ceilings in select units.
Ascent's previous ownership recently renovated one three-bedroom apartment and Avanath plans to complete the renovation of the remaining 167 units to a similar level, including: stainless steel appliances, quartz countertops, new fireplace mantels, and Nest internet-enabled thermostats.
The acquisition of Ascent brings Avanath's portfolio to 509 units under management in Denver and 580 units under management in the state of Colorado. Avanath financed the acquisition through CBRE via a Fannie Mae execution. Ascent is located at 8400 East Yale Avenue in Denver, Colorado.