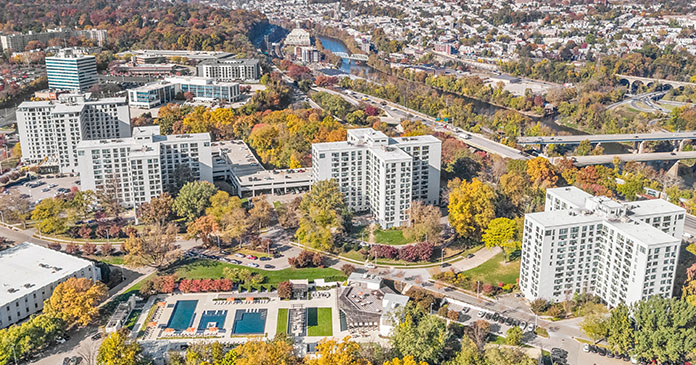 JLL Capital Markets announced the closing of the sale of Presidential City, a 1,015-unit, luxury, high-rise community in Philadelphia, Pennsylvania.
JLL represented the seller, Post Brothers, and helped broker the transaction with the buyers, KKR and Mack Real Estate Group, LLC (MREG). KKR made its investment through KKR Real Estate Select Trust Inc., a continuously offered, registered closed-end fund that thematically invests in high-quality, stabilized, income-oriented commercial real estate equity and debt.
"We look forward to the new owner continuing the careful stewardship of this trophy asset," said Matt Pestronk, President of Post Brothers.
Built in 1950, Presidential City was acquired by Post Brothers in 2012 and subsequently gut-renovated into the Class A+, luxury property it is today. Presidential City is comprised of four apartment buildings, as well as a 41,000-square-foot amenity center (Sora Pool Club and Spa) and a well-leased office building (Monroe). Mack Property Management, L.P., a wholly-owned subsidiary of MREG, will handle property operations. The residential buildings each contain their own unique finish package and consist of studio to three- bedroom floor plans up to 2,920 square feet.
The JLL Multi-Housing Capital Markets Investment Sales and Advisory team that represented the seller was led by Senior Managing Directors Mark Thomson and Carl Fiebig, Senior Director Fran Coyne, Senior Managing Director Jose Cruz and Director Tyler Margraf.
"Presidential City is a significant transaction for our market, and we are excited to bring in prominent groups like KKR and MREG as buyers," said Thomson.
"Throughout its 16-year history, Post Brothers has redefined expectations for Class A multi-housing and is a leader in creating highly attractive destinations nationwide," said Fiebig.
Coyne added, "Post Brothers continues to be at the forefront of game-changing multi-housing projects in Philadelphia with notable projects, including Piazza Alta in Northern Liberties and their project at Broad and Washington, where they will be delivering a combined 2,500 units. We look forward to seeing their continued success as they bring their world class product into other markets throughout the U.S."
Thomson added, "In today's turbulent market, KKR and MREG performed exactly as promised and were reliable counterparties from start to finish. In a time when selecting the right buyer the first time is critical to reaching the closing table, Post Brothers was extremely pleased with the buyers' execution."
JLL Capital Markets is a full-service global provider of capital solutions for real estate investors and occupiers. The firm's in-depth local market and global investor knowledge delivers the best-in-class solutions for clients—whether investment and sales advisory, debt advisory, equity advisory or a recapitalization. The firm has more than 3,000 Capital Markets specialists worldwide with offices in nearly 50 countries.